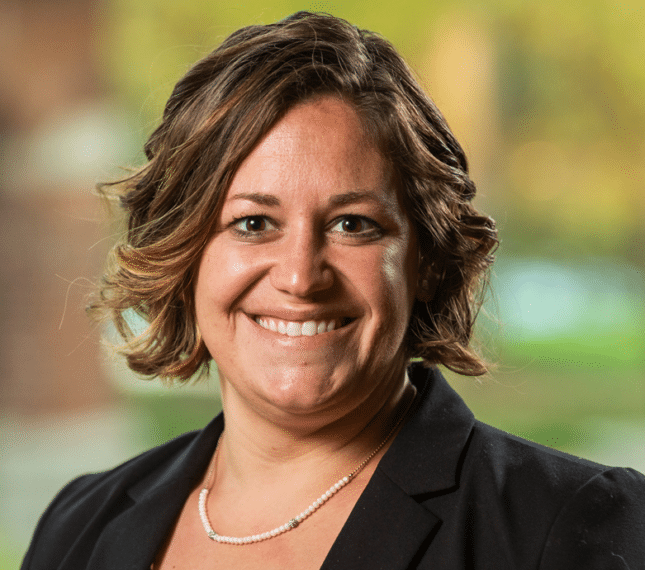 Education
Doctorate of Nursing Practice in Pediatric Nursing, Grand Valley State University
Bachelor of Science in Nursing, Kaplan University
Associate of Science in Nursing, Ivy Tech Community College
Research Interests
Doctoral Dissertation: Implementation of the Evidence-Based COPE Intervention in an Elementary Classroom to Promote Mental Health
Pediatric mental health
Maria McCormick, DNP, CPNP
Director of Nursing
Nursing Division Chair
Assistant Professor of Nursing
Traditional Undergraduate Nursing Division
Education
Doctorate of Nursing Practice in Pediatric Nursing, Grand Valley State University
Bachelor of Science in Nursing, Kaplan University
Associate of Science in Nursing, Ivy Tech Community College
Research Interests
Doctoral Dissertation: Implementation of the Evidence-Based COPE Intervention in an Elementary Classroom to Promote Mental Health
Pediatric mental health
Dr. Maria McCormick, an experienced and skilled nurse practitioner, serves as the director of nursing and Nursing Division chair at Cornerstone University. Dr. McCormick has both an extensive knowledge of health care and a passion for showing God's love to all of her patients and her students.
Dr. McCormick first received her Associate of Science in Nursing from Ivy Tech Community College and then received her Bachelor of Science in Nursing from Kaplan University. She holds a Doctorate of Nursing Practice in Pediatric Nursing from Grand Valley State University and is a licensed Pediatric Nurse Practitioner. Her work experience includes long-term care direct nursing, medical-surgical and critical care, leadership in a long-term care setting and pediatrics.
Dr. McCormick lives in Lowell, Mich., with her husband and three children.
Hobbies
Baking
Outdoor activities
Spending time with family
Campus Involvement
Undergraduate Academic Council
Presentations
Poster presentation of dissertation at NAPNAP conference
Licenses and Professional Memberships
RN
Certified Pediatric Nurse Practitioner
Awards and Recognitions
Bonnie Wesorick Future Nurse Leader Award, Poster Presentation Award
Want to Learn More About CU?
Connect With CU