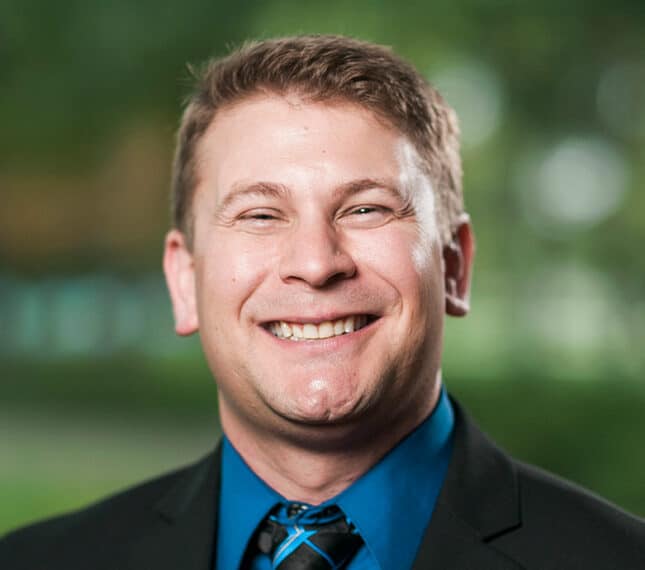 Education
D.Mus., Trumpet Performance, Florida State University
M.Mus., Music Education, Lamar University
B.A., Music, California State University
Matthew Dueppen, D.Mus.
Adjunct Professor of Music History, Brass and Jazz
Traditional Undergraduate Communication, Media & Music Division
Education
D.Mus., Trumpet Performance, Florida State University
M.Mus., Music Education, Lamar University
B.A., Music, California State University
Dr. Matthew Dueppen is an adjunct professor of music at Cornerstone University. He directs the CU Brass Ensemble and the Contemporary Jazz Ensemble and teaches applied brass lessons, music history and jazz courses. He graduated from California State University, Northridge (B.A. in music) in 2008, earned his master's in music education from Lamar University in 2017 and completed his doctorate in trumpet performance from Florida State University in spring 2021.
As a performer, Dr. Dueppen is a Summit Records recording artist and the assistant director of Tim Zimmerman and the King's Brass, a Christian brass ensemble. The ensemble travels internationally and nationally throughout its 19-week season, performing over 150 concerts each year. They have recorded 18 albums. Dr. Dueppen is featured as both a lead trumpet and soloist on their most recent album, "Christmas Joy!," and also on their recording of "Victory in Jesus" (2021).
Along with his busy touring schedule, Dr. Dueppen is an active soloist, including appearances in the 2017 Reno Jazz Festival, the National Christian Choir (2020) and several performances of "The Trumpet Shall Sound" from Handel's Messiah. He has presented lectures and recitals at several universities, including The University of Arizona, Florida State University and Lamar University. Dr. Dueppen is an active contributor to the International Trumpet Guild Journal, including a peer-reviewed article on Clifford Brown's solo transcriptions and several music. In April 2021, he published his doctoral treatise, "The Benefits of Nutritional Supplementation for Building the Muscles of the Trumpet Embouchure," through ProQuest publishing.
Dr. Dueppen's primary research interests include early Baroque trumpet, jazz history/analysis and the health and wellness of brass players. In his brass pedagogy, he is adamant about pursuing an easier way to teach and play the instrument with reduced stressors and the prevention of resultant injuries from brass playing.
Related News, Events & More
Want to Learn More About CU?
Connect With CU