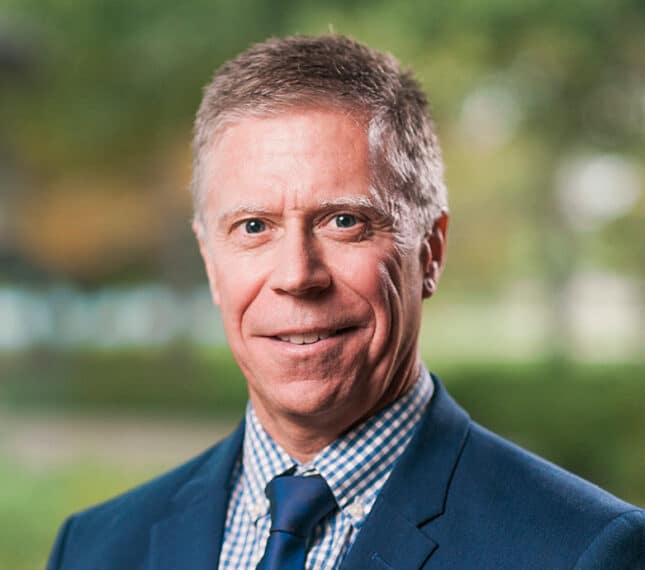 Education
MBA, Grand Valley State University
B.A., Business Administration and Accounting, Cornerstone University
Scott Stewart
Member - Executive Council*
Vice President for Finance and Business Operations
Education
MBA, Grand Valley State University
B.A., Business Administration and Accounting, Cornerstone University
Scott began his career at Cornerstone University in May 1987, accepting the role of business office manager. In 1992, he was asked to start a human resources department and was promoted to accountant and director of human resources. In 1997, when the human resources role expanded to needing a full-time director, Scott decided instead to accept a promotion to the position of controller. Scott held onto that role until the office of Student Financial Services needed some additional leadership. He was controller and director of student financial services for three and a half years and then assumed the title of controller and compliance coordinator. Following a promotion to the position of interim chief financial officer in October 2018, Scott accepted the role of vice president and chief financial officer in March 2019. Currently, he serves as vice president for finance and business operations
In addition to his normal work at Cornerstone, Scott occasionally teaches a Personal Finance course in the Professional & Graduate Studies and traditional undergraduate programs. Scott has also enjoyed serving as church treasurer and financial consultant at his home churches over the years.
Scott has been married to Sheila since 1990. They are blessed to have three boys, Jon, Marc and Caleb, who all enjoy participating in various sports. He also collects eagle figurines, inspired by his favorite Bible verse, Isaiah 40:31, "They that wait upon the Lord will renew their strength. They will soar on wings like eagles. They will run and not grow weary, they will walk and not be faint."
"I value working at an organization that teaches and trains college students to impact the world for Christ. It helps me realize that what I am doing is more than just a job; it is a ministry. College students are at a transition stage of life. I enjoy the interactions I have with them and being able to mentor some of them in their spiritual life."
Hobbies
Golf
Swimming
Running and working out
Coaching and mentoring my boys
Occasional house and yard projects
Serving in various ways at his church
Playing the trumpet
Interests
Accounting
Risk management
Financial aid
Related News, Events & More
Want to Learn More About CU?
Connect With CU