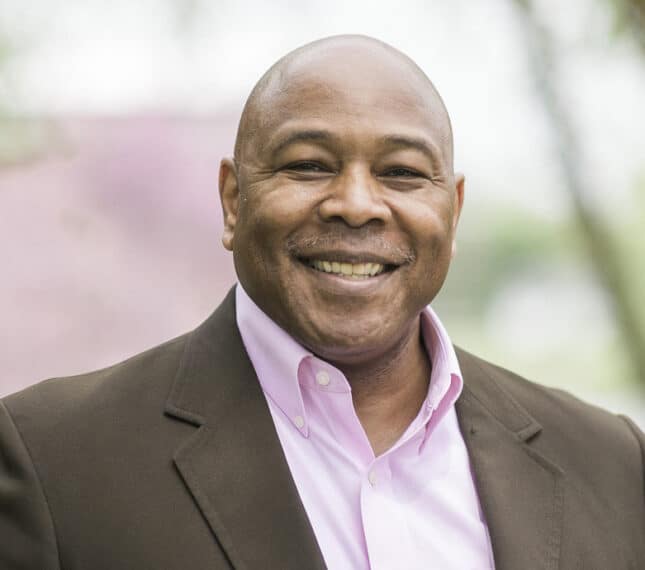 Education
Master of Arts, Ministry Leadership, Cornerstone University
Bachelor of Science, Computer Science, Western Michigan University
Campus Involvement
Alumni Board, Cornerstone University
COVID Taskforce, Cornerstone University
On-Campus Response Team
Terrence King
Education
Master of Arts, Ministry Leadership, Cornerstone University
Bachelor of Science, Computer Science, Western Michigan University
Campus Involvement
Alumni Board, Cornerstone University
COVID Taskforce, Cornerstone University
On-Campus Response Team
With a storied career in both pastoral ministry and higher education, Terrence J. King (M.A. '18) continues at Cornerstone University prepared to lead and shepherd students on their spiritual journeys. As campus pastor, King supports the work of campus ministries and The Well to provide pastoral care and spiritual development for members of the community who wish to find additional support and pastoral care outside their local church body. Collaboratively, the campus pastor helps to foster a flourishing and vibrant spiritual life for a diverse student body and its employees through supporting the chapel program, providing direct pastoral services, engaging the athletic staff in chaplaincy activities, and serving as a key member of the on-campus response team.
King led teams of academic professionals in his role as associate dean of English, humanities and social science at Lansing Community College. He is highly skilled in leadership development, having helped high school and college students complete leadership training courses and trained and coached corporate leaders throughout mid-Michigan and Africa. In 2002, he and his wife, Cynthia, launched Kingdom Ministries, whose mission is to empower community through the kingdom of God. King also launched the life training institute as a training ministry that provides Biblically based, spiritually empowered, and practically applied resources locally and globally. King continues to serve as the chief servant officer of Kingdom Ministries. King also created the Wired Leadership Academy designed to train and develop youth to become leaders and examples in their communities based on the five practices of 1 Timothy 4:12.
He and his wife, Cynthia, live in Dimondale, Mich., and enjoy spending time with their three adult children and grandchildren.
King holds a Master of Arts in ministry leadership from Cornerstone Theological Seminary and a Bachelor of Science in computer science from Western Michigan University.
Hobbies
Electric and acoustic bass guitar
Research Interests
The kingdom of God
The Ekklesia
Leadership
Missions and Spiritual Formation
Presentations
Living Ministries of Christ International Life Changing Conference, Uganda—Title: "Kingdom Attitudes" (Topic: Spiritual Formation—Conforming to the Image of Christ)
Malawi Leadership Conference, Malawi—Title: "Lead by Example" (Topic: 5 Practices of Leadership Based on 1 Timothy 4:12)
Faith Community Churches International, USA, Uganda—Title: "Keeping Your Oar in the Water" Topic: Leadership
Licenses and Professional Memberships
Cultural Intelligence Level I Facilitator, 2019 (Cultural Intelligence Center, Chicago, Illinois)
American Association of Christian Counselor Certification, July 2008 (Light University, Forest, Virginia)
Corporate Leadership Trainer, 2004 (Development Dimensions International, Bridgeville, Pennsylvania)
Awards and Recognitions
Faith Leader of the Year, 2021 (National Alliance on Mental Illness Honors, Midland, Michigan)
Community Member of the Year, 2013 (Holt Education Foundation, Holt, Michigan)
Related News, Events & More
Want to Learn More About CU?
Connect With CU