Making Music, Sharing the Gospel: CU Music Professor Collaborates With Students and Alumni

In fall 2021, assistant professor of music and director of worship arts at Cornerstone University Dr. Desmond Ikegwuonu collaborated with seven CU students and alumni on a variety of worship songs.
The songs explore the attributes of God in various musical stylings and languages, including French, Hindi, Spanish and Amharic.
Ikegwuonu is the artistic director of PFC Worship, a branch of Praise Fellowship Church in Houston, Texas. This partnership has allowed students to get the full experience of what it's like to record, produce and even translate music.
"To see the impact of what students at Cornerstone are doing, in the sense of being aware of who they are, where they come from and what they contribute to the global worship community, has been powerful," Ikegwuonu said.
For him as a professor, he said that the driving force behind these projects have been students realizing their potential and that God has gifted them through their ethnic background and their gifts.
Some of the singles released this fall include: "Healing is Here," featuring Amanda Russell (B.A. '21); "Love's Message," featuring Bethany Morse (B.A. '21); and "God of Wonders," performed in English by Russell, in French by Maurita Oduor (B.S. '21) and Hindi by Grace Akanksha (B.A. '20.)
The students worked with Grammy Award-winning sound engineers to produce these songs. The music they performed ranges from upbeat praise to more contemplative worship, all with incredible vocal talent on display. Even more incredible are the diversity of languages showcased in the music.
"God is much bigger than one language," Ikegwuounu explained. He also spoke of the incredible talent pool of students at CU and how that talent stretches across academic divisions. For instance, Nardos Mulugeta (B.S. '23) is a pre-med student who has taken courses with Ikegwuounu. A native of Ethiopia, Mulugeta has collaborated with Ikegwuonu on several singles in the Amharic language.
Not only did this experience transform students, but it gave them studio recording credit for their resumes. Ikegwuonu also had the opportunity to mentor his students in a deeper way, a passion he brings not only to the recording studio, but also to the classroom.
"Pedagogically," Ikegwuonu said, "I see myself in the classroom as a collaborator."
He described his classroom as a space where students are free to make mistakes and bring whatever they have to the table without judgment. Ikegwuonu believes that students grow more when they are seen as a valuable component of a classroom—a person with something to offer and something to build on. And it's a great joy when Ikegwuonu can call up one of these students after graduation and ask, "Are you ready to record?"
Amanda Russell was ecstatic when Ikegwuonu reached out to her to record a song. She was able to lend her voice to "Healing is Here," a contemplative worship song written by Ikegwuonu. Throughout the recording process, Russell couldn't help but think about her own grandmother, who had recently been diagnosed with stage four colon cancer. The words to the song brought her both tears and healing.
"Desmond's brain is incredible," Russell recalled. "He hears different vocal parts, and it truly feels like we are painting a picture as we record more and more, adding layer after layer. The fun part is you have no idea how it's going to sound at that moment. The production process was simply so much fun and reminded me why I love to do what I do."
The gifts that Ikegwuonu helps his students cultivate is for more than just personal gain, however. He truly believes that music is as effective in spreading the gospel as the written word. He cited the example of Grace Akanksha, a CU student from India who recorded a song with Ikegwuonu in Hindi. She told him that her friends from back home were sharing her worship song on social media—and those friends were Buddhist. Akanskha's friends inadvertently shared the gospel all because she was brave enough to preach the truth through a song in her own language.
"I'm always postured to learn something about the student's cultural voice," Ikegwuonu said, "and help them awaken that so they are bold enough to share that cultural voice."
When asked what it feels like for him as a professor to hear his students on a professional recording, Ikegwuonu laughed and said, "I'm not surprised. Because I knew they could do it." He loves watching his students awaken to their gifts. They always come with a hunger, ready to work and to create something that glorifies God.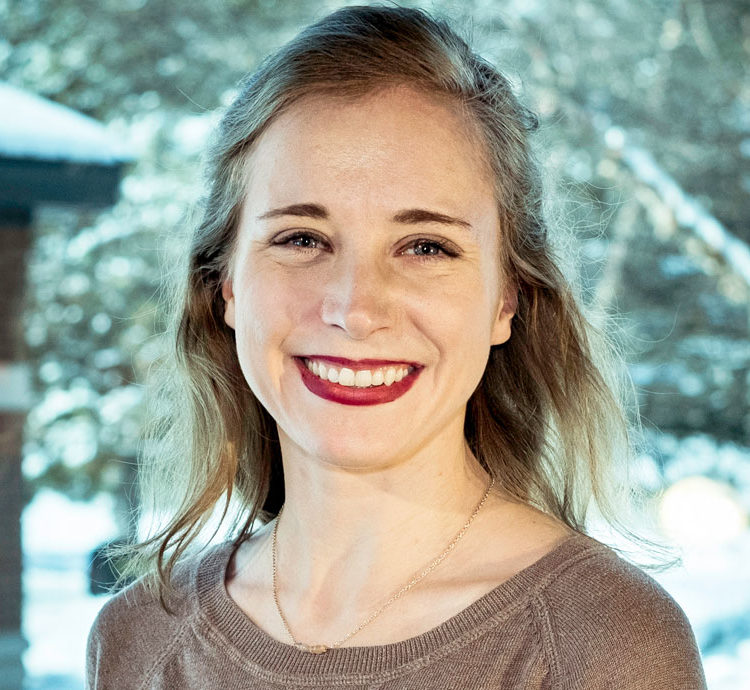 Audrey Wierenga
Audrey Wierenga (B.A. '18) is the copywriter for Cornerstone's Marketing & Communications Office. She graduated from Cornerstone in 2018 with a degree in broadcast communication. Audrey also serves on the Young Alumni Council.
In her spare time, Audrey enjoys working on her own full-length work of fiction, co-hosting a podcast about the Academy Awards and participating in local theatre productions.
Want to Learn More About CU?
Connect With CU