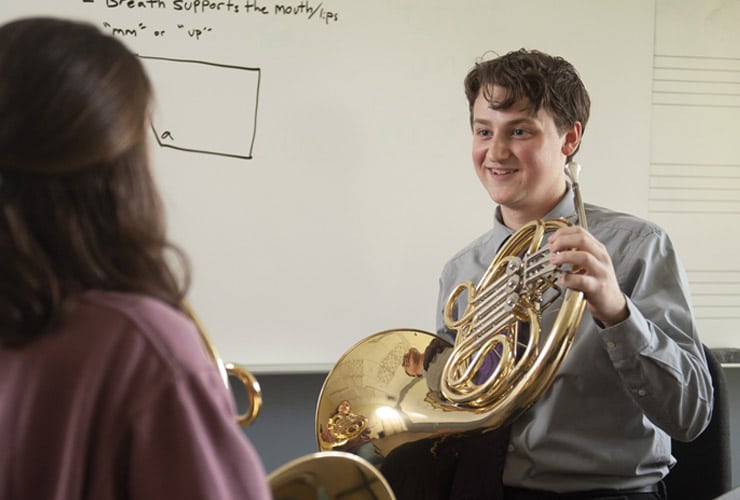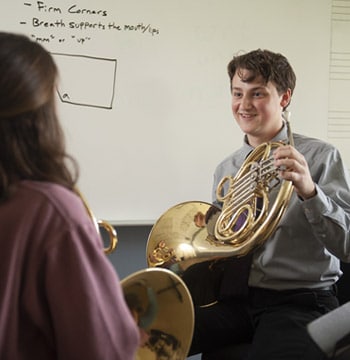 Music Brass Camp

Inspire Through Music
Cornerstone University Music Brass Camp
Ready to learn a new brass instrument or advance your current musical skills? Cornerstone's Music Brass Camp is open to all brass players in grades 4-12. The camp will be directed by Cornerstone professor Dr. Matthew Dueppen and feature workshops and lessons with guest artists and educators.
Camp Details
Registration for Music Brass Camp is open to students in grades 4-12, along with entering new college freshmen.
Dates: June 13-16, 2022
Time: 9 a.m – 4 p.m. (early drop off available from 7-9 a.m., overnight lodging not provided)
Location: Grand Rapids Theological Seminary, Cornerstone University (Grand Rapids, Mich.)
Cost: $150 (plus $3.75 processing fee)
Complimentary lunch will be provided to campers for the first two days of camp. After the first two days, campers should plan to either bring their own lunch or can pay an additional $20 upon camp check-in to have lunch in the dining commons.
Campers should bring their own brass instruments.
Please Note: Your camp registration payment includes a non-refundable 2.5% credit card processing fee.
What to Expect
This four-day music camp is designed for those interested in learning and honing their skills with brass instruments. This experience provides you:
Beginning brass private/group lessons.
Ensembles.
Daily private lessons (one-on-one lessons with faculty members).
Music theory/ear training lessons.
Student showcase performance.
Faculty workshops, masterclasses and performances.
And more!
Community Workshops
This camp will provide free public workshops for local band directors, CU alumni and current CU students. If you are a local band director, CU alumni or current CU student interested in participating, please contact music@cornerstone.edu. Please bring your own brass instrument.
Those interested in only the community workshops should not register with the camp registration form.
Register Now
This camp has a maximum capacity of 16 students. Refunds for the Music Brass Camp will not be honored within 30 days of the start of camp except under extenuating circumstances. We will allow camper substitutions at no extra charge in the event that your student no longer wishes to attend the camp.

Want to Learn More About CU?
Connect With CU