Grand Rapids Theological Seminary

Resilience: Finding Wholeness in
Ministry By Way of the Cross
Talking Points Live Virtual Series
Fall 2020
How do you seek resilience in ministry as a pastor or ministry leader? What does self-care look like when a pandemic has disrupted everything you do? How do you care for all of the needs out there and also take care of yourself? In this sacrificial calling, how might the cross and our union with Christ point a way forward?
In August 2020, Grand Rapids Theological Seminary hosted a series of free live virtual events where we explored these and other questions about resilience, wellbeing and effectiveness in ministry (see speaker and recording list below). In addition to the events themselves, we also developed seven studies that invite active engagement with the conference topics (released in March 2021). These studies provide a way for pastors and ministry leaders to engage others in their context in discussion about how to pursue resilience and wholeness in ministry by way of the cross.
Research shows there are certain keys to cultivating a sustainable, sacrificial yet fulfilling ministry. Explore that research with us and hear from those who are walking the road themselves. If you're in pastoral or ministry leadership, the church needs you to be healthy. We invite you to explore the Resilience series of recordings below and consider implementing the Resilience Curriculum studies in your context.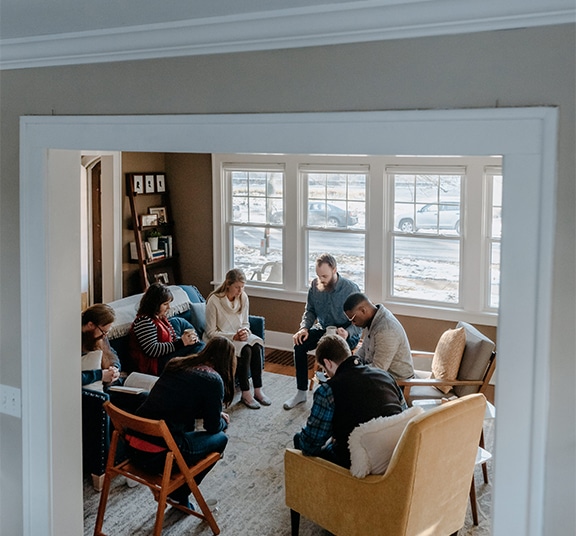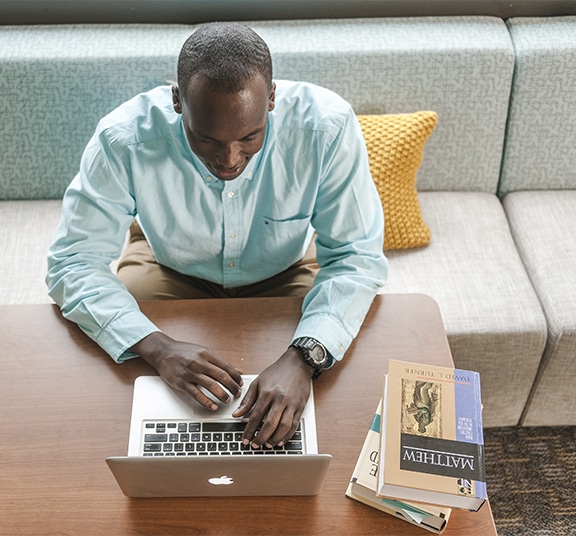 Resilience Curriculum
Through the 2020 Talking Points Conference, we listened to pastors, theologians and researchers as they taught us about resilience and finding wholeness in ministry by way of the cross. But we wanted to keep the conversation going and equip pastors, ministry leaders and those who care for them with resources to sustain them in their work. In March 2021, we launched seven studies that invite active engagement with the conference topics.
Series Background and Schedule
Research on pastoral and ministry leadership portrays the pastor as a person working a demanding job that has responsibilities for which he or she feels ill-prepared. These realities often erode their well-being and lead to shortened ministries and suffering. For example:
Most pastors rate their stress level at moderately high or higher.
Nearly one-third of pastors are at risk of burnout.
Many pastors have experienced depression, and some have struggled with addiction.
Many feel they cannot be authentic in their work.
Many wish they had been better prepared for leadership and management in the church: 29% wanted to be better prepared for the administrative burden of pastoring, 21% for balancing leadership and administration, 19% for challenges in leadership and 17% in church politics. Fewer than one-third of pastors consider themselves "excellent" at managing church finances.
These challenges can often feel unforgiving like waves pounding the rocks of a shoreline, hitting from different directions, repeatedly and relentlessly. Internal and external stressors, feelings of being inadequate and the weight of the role can erode pastoral well-being, leaving us to wonder, "What does well-being look like for pastors? How can a pastor or ministry leader practice self-care for sustainable, healthy ministry while serving in a calling that is inherently self-sacrificial? In what ways might the Cross show us how to find wholeness in ministry?"
GRTS invites pastors, ministry leaders and those who love them to engage these important questions through the special Talking Points virtual series below and the Resilience Curriculum. Together, we seek to learn what resilience in ministry looks like and how to find wholeness by way of the cross.
01
Caring for Your Soul: Finding Contentment in God and Practicing the Sabbath
Sean Nemecek, PIR Ministries
Aug. 3, 2020 | 1:30-2:30 p.m. EST
02
The Way of the Cross: A Biblical Framework for Wellbeing, Suffering
Dr. Ingrid Faro, Northern Seminary
Aug. 24, 2020 | 1:30-2:30 p.m. EST
03
What Is Wellbeing? Insights from the Flourishing in Ministry Project at Notre Dame University
Dr. Matt Bloom, Notre Dame University
Aug. 31, 2020 | 1:30-2:30 p.m. EST
04
What Is a Strong Identity? Insights from the Flourishing in Ministry Project at Notre Dame University
Dr. Matt Bloom, Notre Dame University
Sept. 14, 2020 | 1:30-2:30 p.m. EST
05
Finding Wholeness Despite Painful Circumstances: What We Can Learn From Frederick Douglass
Dr. Danjuma Gibson, Calvin Theological Seminary
Sept. 28, 2020 | 11 a.m. – Noon EST
06
Pastoral Identity, Leadership, and Resilience: Seeking Wholeness in the Daily Tasks of Ministry
Dr. Bob Burns, Church of the Good Shepherd, Durham, N.C.
Oct. 12, 2020 | 1:30-2:30 p.m. EST
07
Pastoral Panel Discussion: Wellbeing, Identity and Leadership
Panelists Rob Peterson, Becky Poor, Nate Wagner, Kizombo Kalumbula and more!
Oct. 26, 2020 | 1:30-2:30 p.m. EST
08
Wholeheartedness: Busyness, Exhaustion, and Healing the Divided Self
Dr. Chuck DeGroat, Western Theological Seminary
Nov. 9, 2020 | 1:30-2:30 p.m. EST
09
Strengthening the Soul of Your Leadership
Ruth Haley Barton, Transforming Center
Nov. 30, 2020 | 2:30-3:30 p.m. EST
Speakers and Panelists
We are excited to bring together a roster of keynote speakers and panelists whose expertise and personal experience give them unique and important voices in this conversation.
Ruth Haley Barton
Ruth Haley Barton is founding president/CEO of the Transforming Center, a ministry dedicated to strengthening the souls of clergy, Christian leaders and the congregations and organizations they serve. A sought-after teacher, retreat leader and spiritual director trained through the Shalem Institute for Spiritual Formation (Washington, D.C.) and The Pathways Center for Spiritual Leadership (Nashville, Tenn.), Ruth has served on the pastoral staff of several churches including Willow Creek Community Church.
Educated at Northern Seminary and the University of Loyola Institute for Pastoral Studies, Ruth has authored numerous articles and books, including "Pursuing God's Will Together: A Discernment Practice for Leadership Groups," "Strengthening the Soul of Your Leadership: Seeking God in the Crucible of Ministry," "Sacred Rhythms: Arranging Our Lives for Spiritual Transformation," "Invitation to Solitude and Silence: Experiencing God's Transforming Presence," and "Invitation to Retreat: The Gift and Necessity of Time Away with God."
Ruth has been a student, a practitioner, a teacher and a leader in the area of Christian spirituality and spiritual formation for over 20 years, and as the founder of the Transforming Center, she leads the two-year Transforming Community experience, guiding full-time ministry people in learning and practicing sacred rhythms in their personal and leadership lives.
Matt Bloom
Matt Bloom, Ph.D., is a professor at the Mendoza College of Business at the University of Notre Dame. He leads the Flourishing in Ministry and Wellbeing at Work research projects which focus on the wellbeing of helping and caring professions. Matt is passionate about finding real solutions to make work a healthy, vibrant, life-enriching experience. Matt and his team has been engaging with clergy, through various research methodologies, to understand the "rapid changes" of clergy work and how people manage and navigate these changes throughout a life in ministry. Matt is the author of the new book "Flourishing in Ministry: How to Cultivate Clergy Wellbeing" released in October 2019.
Matt teaches courses on innovation and design thinking. He has worked with a variety of not-for-profit organizations, both in the United States and internationally, helping them learn about and integrate wellbeing research into their programs and initiatives.
Bob Burns
Dr. Bob Burns serves as pastor of spiritual formation at Church of the Good Shepherd in Durham, N.C. He has served in many varied ministry positions ranging from youth and singles ministry to worship arts and senior pastor. He has also served as an associate professor, dean of lifelong learning and director of the Doctor of Ministry at Covenant Theological Seminary, as well as a Guest Faculty at Reformed Theological Seminary. He holds degrees from the University of Maryland (B.A.), Covenant Theological Seminary (M.Div.), Westminster Theological Seminary (D.Min.) and the University of Georgia (Ph.D.). He is an ordained minister in the Presbyterian Church of America with over 45 years of pastoral experience.
Bob is the author of numerous books and articles. His books include "Resilient Ministry: What Pastors Told Us About Surviving and Thriving" and "The Politics of Ministry: Navigating Power Dynamics and Negotiating Interests" (both with Tasha D. Chapman and Donald C. Guthrie) as well as "Recovery From Divorce," "The Adult Child of Divorce" (with Michael Brissett) and "The Fresh Start Divorce Recovery Workbook" (with Thomas Whiteman). Bob and his wife Janet have been married for 42 years and have two sons and eight grandchildren.
Chuck DeGroat
Dr. Chuck DeGroat serves as professor of counseling and christian spirituality at Western Theological Seminary in Holland, Mich., and co-founder and a senior fellow at Newbigin House of Studies in San Francisco. He is the author of several books, including "Wholeheartedness: Busyness, Exhaustion, and Healing the Divided Self" (March 2016) and "When Narcissism Comes to Church: Healing Your Community from Emotional and Spiritual Abuse" (March 2020).
Chuck is also a licensed therapist, retreat leader and spiritual director. He has been married to Sara for 25 years and has two daughters.
Ingrid Faro
Dr. Ingrid Faro serves as dean of academic affairs and associate professor of Old Testament at Northern Seminary in Lisle, Ill. Before coming to Northern, she was the director of master's programs at Trinity Evangelical Divinity School in Deerfield, Ill. She has an M.Div. and Ph.D. from Trinity Evangelical Divinity School in Deerfield, Ill. Her Ph.D. is in Theological Studies, with a concentration in Old Testament and Semitic Languages.
Ingrid is an international speaker at conferences and churches and writes on topics that include navigating evil and suffering, women in the Bible, forgiveness, the goodness of God, identity in Christ, discipleship and leadership. Her forthcoming books are "Evil in Genesis" and "Honest Answers: Exploring God Questions with Your Tween." Ingrid has lived in Israel and Sweden and is a regular teacher and preacher in China.
Previously, Ingrid worked in nutrition, including as an associate professor and as an entrepreneur in health insurance. She has a married son and married daughter and is a happy grandmother.
Ingrid's heart motivation is to encourage people, help them navigate the sufferings of this world and grow in thriving relationship with God and others.
Danjuma Gibson
Dr. Danjuma Gibson serves as associate professor of pastoral care at Calvin Theological Seminary. He is also in private practice as a psychotherapist in Grand Rapids, Mich. Prior to joining Calvin Seminary, he was the senior pastor of a church in Chicago for over 16 years and was also bi-vocational as a commercial banker during that time. His most recent book—"Frederick Douglass, A Psychobiography: Rethinking Subjectivity in the Western Experiment of Democracy" (2018)—is an investigation into the formation of Douglass' psychological and religious identity in the context of trauma and the American slavocracy. He explores questions like, How did Douglass develop a robust sense of self and agency as a human being in the context of extreme suffering?
Dr. Gibson earned his degrees from Garrett Evangelical Theological Seminary (Ph.D.).; Trinity Evangelical Divinity School (M.A., Urban Ministry and Master of Christian Studies); DePaul University (M.B.A.); and Morehouse College (B.A.). He received his clinical training from the Center for Religion and Psychotherapy of Chicago where he earned an advanced certificate in psychotherapy and religion.
Sean Nemecek
Sean Nemecek serves as the West Michigan regional director for Pastor-in-Residence Ministries, a ministry dedicated to partnering with God and the church in the work of pastoral renewal and restoration. A third-generation pastor with nearly two decades of ministry experience, Sean has been coaching pastors for more than 10 years. His coaching and his own experience of ministry burnout led him to start The Pastor's Soul, a blog that addresses the two primary causes of pastoral burnout: the care of the pastor's soul and the culture of the church. In addition, he co-hosts the Hope Renewed podcast, encouraging pastors as they face times of uncertainty, crisis or transition.
Sean's goal is to invest in your pastor's joy for the good of the church.
Darrell Yoder
Hours
MON - FRI: 8 a.m. - 5 p.m.
SAT & SUN: Closed
Want to Learn More About GRTS?
Connect With GRTS