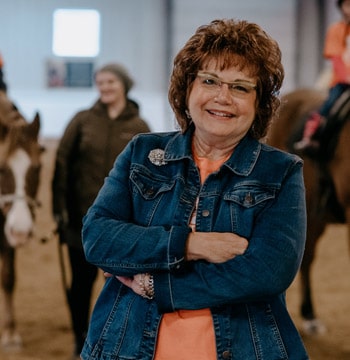 M.A. in Education
PROGRAM START DATES
Classes start on Jan. 16 and Mar. 13, 2024
Credit Hours
35 with up to 26 hours in transfer credits possible



Cornerstone University and the M.A. in Education degree are accredited by the Council of the Accreditation of Educator Preparation (CAEP).
Master of Arts in Education
You can boldly influence education as a growing skilled and inspiring leader inside and outside the classroom. Gain advanced knowledge and skills with a Master of Arts in education degree that prepares you to make a meaningful impact in curriculum and instruction or educational leadership.
Cornerstone University's CAEP-accredited Master of Arts in education degree is offered online to ensure flexibility to pursue this advanced master's on your schedule. Choose between the curriculum and instruction or educational leadership specializations as you also expand advanced knowledge in practical applications for classroom and leadership roles. You will:
Expand essential leadership skills including administrative and classroom decision-making, technology resources, student achievement research, reading diagnostics and remediation, curriculum assessments and theory, community building and leadership from a Christian worldview, and applied solutions projects.
Increase your earning potential by developing advanced proficiencies in K-12 curriculum and instruction or educational leadership from a research, assessment, student and organizational behavior perspective. And discover strategies to positively impact student or school achievements to enhance your calling as an educator.
Learn from respected faculty educators and administrators with real-world experience who are passionate about K-12 education, your career as an educator, and your spiritual development.
Flexible courses offered 100% online. No GRE or GMAT required. Complete in two years or less. Transfer up to 27 credits.
One of the most affordable degree programs per credit hour.


Why Choose a CAEP Accredited M.A. in Education Degree from Cornerstone University?
With over 80 years of experience in traditional and online higher education, Cornerstone University has prepared education professionals who serve the K-12 community with skill, character, and distinction inside and outside the classroom. The Master of Arts in education online degree is accredited by the respected Council for Accreditation of Educator Preparation (CAEP) and the Higher Learning Commission (HLC).
What sets a Cornerstone master's degree apart is our commitment to provide the most excellent academic real-world education taught by experienced and respected education faculty and leaders from a Christian worldview. Our mission is to prepare bold, Christ-centered leaders who will create solutions to tomorrow's educational challenges to better serve our communities, students and families. Choose from over 75 in-demand degrees, certificates and concentrations to customize the learning you need to fit your career goals in education.
Start your M.A. in education degree online today with Cornerstone University!
Knowledgeable, passionate enrollment counselors are ready to guide you from application to graduation!
Courses are offered 100% online to fit your busy life. No GRE required.
Transfer up to 27 courses of an eligible degree's credit hours.
Scholarships and aid programs are available.
Tuition is priced for affordability compared to other private nonprofit universities, ensuring a degree that can fit your budget.
Experience one-on-one faculty support from experienced educator leaders.
Free student support resources are available—including writing, pastoral counseling services and more—to provide comprehensive support!
Admission Requirements
A completed bachelor's degree with a minimum 3.0 GPA from an accredited institution
Official college and/or military transcripts
Copy of your teacher's certification document
100%
Of faculty are Christ followers.
90%
Of students work full time while pursuing a degree.
Program Concentrations and Courses
Your vocational calling as an educator is unique to you. Specialize your professional development with one of two concentration options.
Curriculum and Instruction (35 credit hours): Develop new ways to serve as an educator in your classroom with advanced instruction methods to serve a wide range of student learning styles, motivations and abilities. Course topics in this concentration include student behavior, instructional strategies and assessments. Curriculum for the program is developed around the objectives found in the National Board for Professional Teaching Standards (NBPTS). While Cornerstone University cannot offer National Teacher Certification, you can consider this possibility by working directly with the NBPTS.
Educational Leadership (35 credit hours): Grow your influence as you lead in your school and community by advancing into administrative roles. Course topics in this concentration include organizational leadership, evaluation, finance and ethics.
EDU-511 Issues in EducationAn overview of the philosophy of education. The course introduces the Christ-centered worldview as it relates to education within the context of educational leadership, global issues, diversity and choice, technology, learning disabilities, literacy, curriculum, etc. Specific emphasis is placed on how issues impact decision making at the administrative and classroom levels.
EDU-572 Technology
An emphasis on providing a conceptual framework for technology and a means of using technology as a tool in the educational setting. Administrators and teachers find ways to become leaders in the use of technology within the school. Instruction is given in the areas of using technology to facilitate inquiry-based learning, finding and developing resources, using computers in the classroom and exploring ways to use the internet as an instructional tool.
EDU-522 Curriculum, Assessment and Instructional Theory
A review of current professional organization and governmental curriculum standards. The course also provides guidance in developing objectives, assessments and strategies in working with a variety of student populations in the inclusive classroom.
EDU-553 Research
A review of current best practice methods as indicated by meta-research. The course reviews data related to student achievement (local and beyond) and provides direction on how to use teacher/administrator-developed data to improve student learning. Finally, it provides a framework to use data as a basis for professional reflection.
EDU-593 Master's Project A
An identification of an area of need in the educational system that the student would like to create and develop a solution to through a master's project in EDU-595. The master's project is generally done in the area of educational leadership, curriculum development and assessment, school management, or educational technology dependent on M.A.Ed. concentration. In EDU593, students propose a master's project and complete a literature review. Prerequisite: EDU-553.
EDU-566: Reading Diagnostic Tools and Remediation
An introduction to diagnostic tools and remediation strategies within the context of the differentiated instruction model. The course incorporates instruction in the following areas: interest inventories; English language learning; visual and auditory discrimination tools; language expression and processing screening; phonemics, phonics, vocabulary, fluency comprehension, spelling, writing and writing assessment tools; and best practice instructional strategies in all areas of literacy. This course is not required if you are taking the educational leadership concentration. 
EDU-524 Community Building and Educational Leadership
An investigation of institutional structures (including technology), managing and creating change, administrative/teacher cooperation, teacher/teacher cooperation and community involvement. Ways to help teachers and administrators remain successful, such as stress management and conflict management, are explored.
EDU-595 Master's Project B
A continuation of the EDU-593 master's project that fills an area of need in the educational system. Throughout the program, the student continues to refine and develop their proposal, adding useful resources in order to complete the project. The master's project is generally done in the area of educational leadership, curriculum development and assessment, school management or educational technology depending on M.A.Ed. concentration. Prerequisite: EDU-593.
READING DIAGNOSTIC TOOLS AND REMEDIATION COURSE
If you are interested in taking only our Reading Diagnostic and Remediation course, you can enroll in the class as a standalone course. This course will prepare you in areas such as:
Interest inventories.
Visual and auditory discrimination tools.
Language expression and processing screening.
Writing assessment tools.
Apply for this class using our non-degree application.
You Can Start Your Journey Now!
An enrollment counselor is ready to help you start your influential education master's degree now. Cornerstone offers:
Accelerated admissions to get you started sooner—simple steps we'll walk you through.
Competitive tuition rates—some of the most affordable in the region.
Generous credit transfers—up to 27 hours in transfer credits possible.
Financial aid advisers to explore funding opportunities for this valuable life investment.
Start your application for a bold, influential life with your Master of Arts in education degree from Cornerstone University!
Related Programs
As an educator, you know the difference that education can make when aligned with your goals. Pursue your vocational calling in the context of a supportive community passionate about empowering you to reach your goals.
Admissions Office
Hours
MON - FRI: 8 a.m. - 5. p.m.
SAT & SUN: Closed
Want to Learn More About CU?
Connect With CU