Reflecting the Triune God: Cornerstone University Faculty and Staff Participate in Intercultural Competence Training

As Christ followers, we believe that all people are made in the image of God. Yet, as sinful beings, we imperfectly express this tenet of the Christian faith in relationships. With a commitment to a deep study of Scripture, we often benefit from additional tools and perspectives to help us live out this important aspect of our community.
On March 17-18, 2022, faculty and staff at Cornerstone University engaged in a two-day intercultural competency and beautiful community training with staff from the Institute for Cross-Cultural Missions (ICCM).
The journey toward deeper understanding of our brothers and sisters in Christ began in late 2021, when faculty and staff collectively read "The Beautiful Community: Unity, Diversity and the Church At Its Best" by the Rev. Dr. Irwyn Ince, founder of ICCM.
The reading of the book coincided with each faculty and staff member taking the IDI assessment, a survey which measures an individual's intercultural competence and provides actionable methods to improve. Ince was joined by two other facilitators and fellow intercultural consultants Barbara Jones, a 25-year veteran of intercultural missions and founder of Walking Anew Inc., and Melissa Littlepage, chief of staff for ICCM and founder of Jam and Bread.
"When it comes to loving God, our neighbor and each other regardless of our backgrounds," said Dr. Gerson Moreno-Riaño, president of Cornerstone, "we have all fallen short. This is a conversation that has been needed in our community for a long time and is a tremendous opportunity for us to move forward together in a Biblical approach to unity and diversity."
Throughout the course of the two-day training, Ince and his team covered the biblical foundations for a beautiful community, the importance of culture and the cultural mandate and how CU can transform the IDI assessment into action steps for each individual.
"Our recent diversity training led by Dr. Ince and his team has helped many of us deepen our sense of oneness in Christ through the lens of our Triune God as the Beautiful Community. It is this Beautiful Community that the Father intends his children at Cornerstone University to reflect," said Terrence King, vice president of the office of Spiritual Formation & Christian Community. "We must do this tough work, the work of the one who sent us together."
More than 200 faculty and staff members dedicated their time to attending the training and engaging in small group discussions, listening thoughtfully to each speaker and asking honest questions. Christ Chapel became a hub of new understanding, envisioning the more beautiful community that Cornerstone could become as individuals grow in their own competence and together as a community. Faculty and staff left with a renewed sense of possibility for what they can do to take that next step.
The work that faculty and staff dedicated to this training is just the beginning. Next, they will continue to have more conversations and pore over their individual assessments. Cornerstone leadership and Ince expressed interest in inviting ICCM back to campus for further training in years to come. Emilie Azkoul, vice president of human resources at Cornerstone, noted that faculty and staff will be coached based on their IDI results.
"Each employee will have the opportunity to debrief with a qualified adviser from ICCM about their individual IDI results," Azkoul said. "This meeting will include a personalized growth plan striving toward an intercultural understanding and mindset."
Student leadership was also present at the event, learning more about how they can be influencers in intercultural competence among their peers. Dylan Thomas (B.A. '25) expressed interest in seeing more of this sort of training in classrooms.
"As students, we do have a few classes that include cultural competence," Thomas noted. "I am a part of the Kingdom Scholars, and in our honors program, we spend some time learning cultural competence. But I think it would be really cool to have a class devoted to this type of training."
Staff members like Tammy Robertson, administrative assistant for the Social Science Division, gained a new perspective on how this training will influence her interactions with students, faculty and staff alike.
"The IDI training reminded me that diversity literally encompasses everything in our world," Robertson said. "Not only race, but age, sex, geographical location and ethnic heritage to name a few. It was great to be reminded of this as we all grow toward intercultural competence."
Dave Emerson, executive director of admissions and international recruitment and chair of the diversity committee at Cornerstone, saw the training as a valuable stepping-stone for future growth as a university.
"The IDI training was an important first step for our campus community in gaining cultural self-awareness and realizing where we stand in our own growth of intercultural competence," Emerson said. "I'm excited for the continued growth on our campus as we strive to take more actionable steps to develop in this area."
The ICCM team expressed excitement as they concluded the training and listened thoughtfully to feedback from attendees. Ince is confident that Cornerstone can move forward, do the work and go "below the surface of the water" to gain further intercultural understanding.
"It was a privilege to partner Melissa, Barbara and the CU community for the Beautiful Community," Ince said. "The LORD is at work here and I'm grateful that we were given the opportunity to come alongside in that work. Thank you, Dr. Moreno-Riaño and the CU leadership, for inviting us to serve you all!"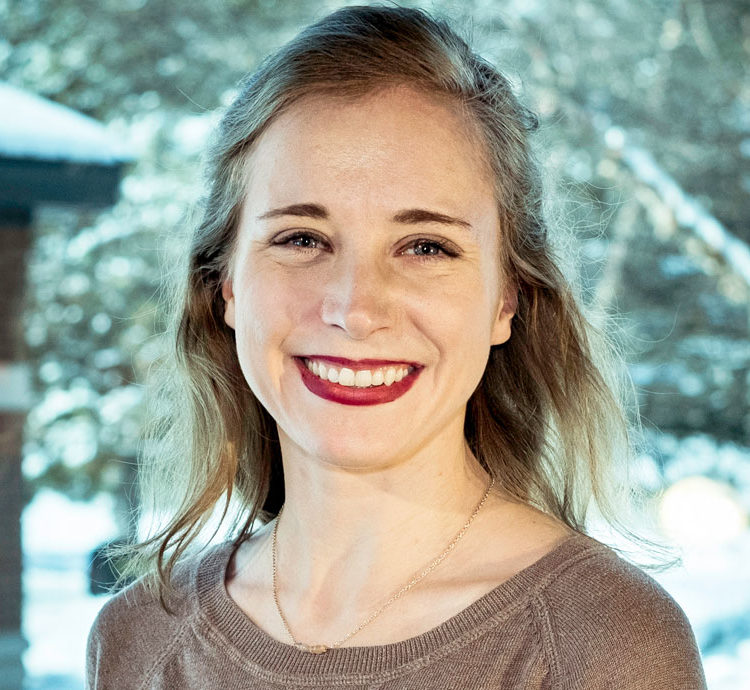 Audrey DeBoer
Audrey DeBoer (B.A. '18) is the copywriter for Cornerstone's Marketing & Communications Office. She graduated from Cornerstone in 2018 with a degree in broadcast communication. Audrey also serves on the Young Alumni Council.
In her spare time, Audrey enjoys working on her own full-length work of fiction, co-hosting a podcast about the Academy Awards and participating in local theatre productions.
Want to Learn More About CU?
Connect With CU