Lauren Slagter (BSN '24):
A Life Transformed Out West

When Lauren Slagter (BSN '24) agreed to go on the Friendship Sports International (FSI) leadership trip, she expected some hikes through the mountains and discussions about what it means to be an effective athlete on her bowling team.
But what she got was so much more than that.
Cornerstone University athletic director Aaron Sagraves (B.A. '04) reached out to Slagter and a handful of other athletes on Cornerstone's campus to attend the trip. Slagter felt honored to be handpicked, but she wasn't expecting anything different than trips she'd gone on in the past.
"I thought it would just be listening to people talk about what it means to be a team. I didn't see how it would relate to me," Slagter recalled. "Still, I felt drawn to go."
A group of 13 Cornerstone athletes, coaches and staff boarded a plane to Billings, Mont., a dry, sprawling city in the Yellowstone Valley, on July 19. They flew into 90-degree heat and elevation that reached 9,000 feet at its highest point.
From there, Slagter recalls, they drove for hours on end to their various destinations. Their home base was Cody, Wyo., where Jim King, the director and board president of FSI lives with his wife, Jenny.
"Questions that Jim constantly asked us during the trip were, 'How are you feeding your flesh, and how are you feeding your spirit?'" Slagter said. "He also asked us, 'How are you being prepared to share the gospel?'"
Slagter didn't know yet how this would relate to her role on the bowling team at Cornerstone or even her relationship with God. The week began with exploring Yellowstone National Park and hiking throughout the region.
"Jim had prayed at the beginning of the week, 'God, mess up our plans,'" Slagter said. "Toward the end of the week, He did."
On their drive to the Beartooth Pass in Wyoming, their van broke down. King had to drive truckloads of college athletes from the broken down van to the trailhead. When King brought Slagter's group to the trail, they encountered a group of men who were there for the local rodeo. After hiking for some time, pausing to chat with one another, Slagter and her group were exhausted. They weren't sure if they were going to make it to their destination.
Then, the men came riding by and told them the rock formations they were looking for were only about 100 yards away. "That's just the length of a football field," one of the girls in Slagter's group said.
"All that time," Slagter said, "we were so tired and ready to turn back, but our destination was only 100 yards away. None of that would have happened if our van hadn't broken down."
Some of the most impactful moments on the trip for Slagter, however, were her conversations with other athletes on the trip with her. She recalled staying up late talking for hours with athletes from the basketball and track teams.
"I haven't had that in-depth of a conversation about my faith, my life or my team for a long time," Slagter said.
But the most transformative moment of the trip was when Slagter was encouraged to get baptized.
Every athlete on the trip was encouraged to write a letter to their team. When Slagter sat down to write, she found herself getting emotional, realizing things that needed to change in her leadership and in her life. She remembered King's words—"How are you feeding your body, and how are you feeding your soul?" After talking to another athlete who wanted to get baptized and to women's softball coach Kelsey Kooistra, Slagter made her decision to get baptized in the river that Sunday.
"It was the perfect place to do it," recalled Slagter, "with the perfect people around me."
When Slagter talked about what she's going to bring to her team because of this trip, she got excited. "I've already talked to my coach about it," she said, smiling. "We're going to have a kind of 'big sister, little sister' program on the bowling team, where an upperclassman will mentor a freshman to show them the ropes of Cornerstone and what it's like to be a student, a disciple and an athlete."
Slagter has also thought a lot about what King said about sharing the gospel. She and her bowling team are going to choose a team verse to wear on their T-shirts to games—"so there's more of the gospel in what we do, a constant reminder of what we're here for."
"I really want to focus on that in the next year," Slagter noted. "I want to grow my understanding that this team is an open space, and we are here because of Jesus and for Jesus."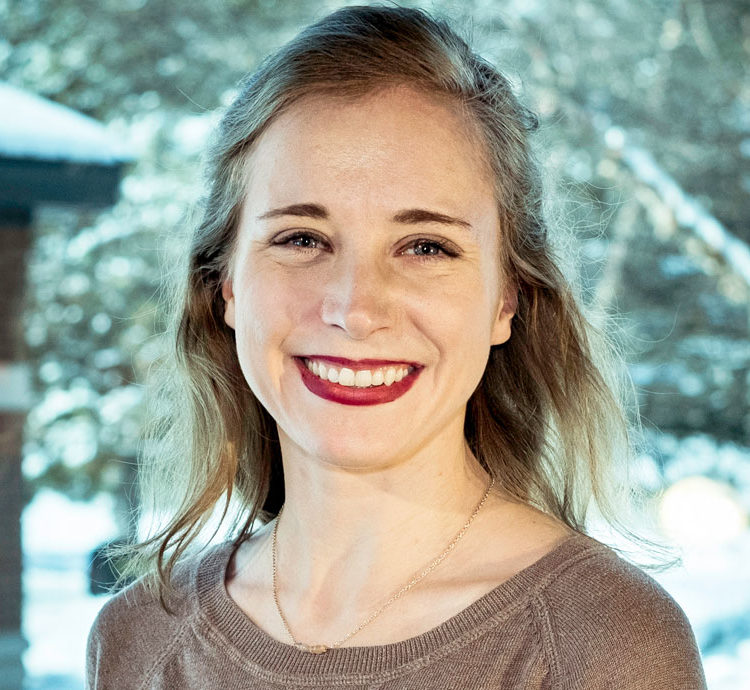 Audrey Wierenga
Audrey Wierenga (B.A. '18) is the copywriter for Cornerstone's Marketing & Communications Office. She graduated from Cornerstone in 2018 with a degree in broadcast communication. Audrey also serves on the Young Alumni Council.
In her spare time, Audrey enjoys working on her own full-length work of fiction, co-hosting a podcast about the Academy Awards and participating in local theatre productions.
Want to Learn More About CU?
Connect With CU