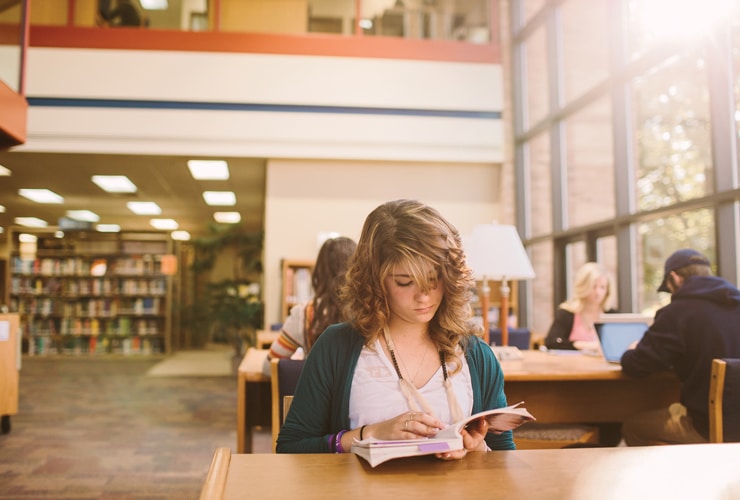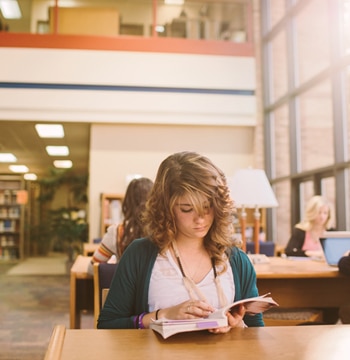 Loans

Manage Your Investment
Loans
Cornerstone University offers resources that help you maximize your investment in a college education. Our dedicated financial officers are available to share information and answer any questions you have about student loans and borrower responsibilities. Together, we'll chart the best path forward for your financial future.
Federal Loans Types
Direct Subsidized and Unsubsidized Stafford Loans
Two types of Stafford loans exist: subsidized and unsubsidized. The type for which you qualify for is based on the FAFSA information. The maximum loan eligibility each year is based on total credit hours earned and dependency status. Repayment of Stafford loans begins six months after you are no longer attending your institution at least half-time. New students will need to complete online entrance counseling and a master promissory note in order to receive their loan. These loans have a fixed interest rate and a 1% origination fee that will be deducted from the amount of the loan. ​There are annual and aggregate limits to the amount of loan certain students can receive.
Maximum Loan Amounts for an Academic Year for Undergraduate Dependent Students
| Year | Unsubsidized Loan Limit | Subsidized Loan Limit |
| --- | --- | --- |
| Freshman | $5,500 | $3,500 |
| Sophomore | $6,500 | $4,500 |
| Junior | $7,500 | $5,500 |
| Senior | $7,500 | $5,500 |
Maximum Loan Amounts for an Academic Year for Undergraduate Independent Students
| Year | Unsubsidized Loan Limit | Subsidized Loan Limit |
| --- | --- | --- |
| Freshman | $9,500 | $3,500 |
| Sophomore | $10,500 | $4,500 |
| Junior | $12,500 | $5,500 |
| Senior | $12,500 | $5,500 |
Maximum Unsubsidized Loan Amount for an Academic Year for Graduate Students: $20,500
​Maximum Aggregate Loan Limits
| Student | Loan Limit |
| --- | --- |
| Undergrad (Dependent) | $31,000 (maximum $23,000 subsidized) |
| Undergrad (Independent) | $57,500 (maximum $23,000 subsidized) |
| Graduate | $138,500 (maximum $65,000 subsidized) |
Direct Subsidized Stafford Loans
Fixed interest on a subsidized loan does not accrue while the student is enrolled at least half-time in a degree-seeking program and during a six-month grace period after the student leaves school. Qualification for a subsidized loan is determined by the FAFSA.
Direct Unsubsidized Stafford Loans
Students who do not qualify, in whole or in part, for a subsidized loan, can still receive an unsubsidized loan. These loans have a fixed annual interest rate that accrues interest once the loan is paid to the student's account.
Receiving Your Direct Stafford Loans
Students usually receive a Direct Loan for an entire academic year with one portion of the total loan amount being disbursed each semester. Funds are automatically credited to the student's account by the Cornerstone Accounting & Finance Office.
To receive a Federal Direct Student Loan at Cornerstone, you must be able to answer yes to the following statements:
You have been admitted to Cornerstone University.
You have applied for federal financial aid through the FAFSA form, it has been processed, and Cornerstone has received the results.
Your financial aid application has been reviewed by the CU Student Financial Services Office, and a financial aid award notification has been sent to you for the academic year for which you want the loan.
You have completed the Direct Loan entrance counseling with Cornerstone.
You have completed the Direct Loan Master Promissory Note.
Interest Rates
Although Direct Stafford loan interest rates vary by year, rates remain fixed for the life of the loan and will not exceed the stated interest rate cap. Loan interest rates for 2023-24 are summarized below.
Undergraduate Direct Loans: 5.50% (8.25% interest rate cap)
Graduate Direct Loans: 7.05% (9.5% interest rate cap)
PLUS Loans
PLUS loans are federal loans that graduate or professional degree students and parents of dependent undergraduate students can use to help pay education expenses above and beyond the Direct Stafford Loans.
The U.S. Department of Education makes Direct PLUS Loans to eligible borrowers through schools participating in the Direct Loan Program. This is a federal loan. Eligibility for this loan is not based on financial need or family income; the applicant will undergo a credit check.
The maximum loan amount is the total cost of attendance minus other financial aid the student may receive. Repayment may begin as early as 60 days after disbursement; deferment is possible. The PLUS loan is a fixed interest rate loan with an origination fee that will be deducted from the total amount borrowed. This origination fee for Parent PLUS loans is 4.228% and for Grad PLUS loans it is 1.057%. Example: School balance=$5,000. With a 4.228% origination fee, the gross loan amount to request is $5,000/.95772=$5,220.
Even if you have had a PLUS loan in prior years, federal regulations require you to reapply through the Direct Loan process. You will be given the option to cover the balance of the bill or obtain the maximum allowed under the cost of attendance. If a parent is denied a PLUS loan, the student may receive additional unsubsidized loan funds.
Although Direct PLUS loan interest rates vary by year, rates remain fixed for the life of the loan and will not exceed the stated interest rate cap. Loan interest rates for 2023-24 are summarized below.
Graduate PLUS Loans: 7.05% (10.5% interest rate cap)
Parent PLUS Loans: 8.05% (10.5% interest rate cap)
Alternative Loans
Alternative loans are available to help meet education costs not covered by federal, state, institutional financial aid and personal resources. These loans are provided by a bank, require a credit check and usually require a cosigner. To view a list of lenders for the school year and to apply for a loan, check out our resources listed below.
Once you complete an application and are approved for a loan, we will be notified and the amount will be reflected on your tuition statement. For any questions about the alternative loan, contact Student Financial Services.
Once you are approved for a loan, review the interest rate and fees that will be charged for your loan.
Applications for alternative loans should be completed by Aug. 15 for the fall semester or Dec. 15 for the spring semester. Applications completed after Aug. 15 or Dec. 15  may cause delays in the loan approval process. Loans not approved by Aug. 24 for the fall semester or Jan. 1 for the spring semester may result in late fees on the student account.
Credible is a free online tool that allows students to compare personalized loans from multiple lenders. Not all lenders included are participating in this comparison tool and therefore will not be represented in the outputs. Students can analyze pre-qualified rates, terms and eligibility rules side by side for those lenders that participate with Credible in just a matter of minutes with a single application. This application runs a soft credit check and credit score will not be impacted.
ElmSelect is a database of private lenders that we are familiar with. Students can compare various lenders side by side before applying. Applying to loans to view individualized rates may impact credit score. However, multiple credit inquiries for the same type of loan within 45 days are no longer treated as separate inquiries. FICO has adapted to incentivize smart shopping for better loan rates, and you can benefit from this by shopping around without concern of multiple credit inquiries impacting your score more than once.
Private Loan Conduct Code
Cornerstone employees are committed to the highest standards of professional conduct. As a participant in student loan programs, CU is required to have a code of conduct related to student loan activities applicable to the institution's officers, employees and agents. In addition to the university conflict of interest policy, the Code of Conduct Related to Student Loan Activities is an additional requirement specific to certain transactions and financial aid related matters.
Lenders in the Cornerstone student loan program are selected and approved by Student Financial Services staff on the basis of whether or not the lender chooses to participate in the electronic process through ElmSelect disbursement system. Lender disclosure statements are on file in the Student Financial Services Office.
Code of Conduct
CU employees will abide by the following Code of Conduct Related to Student Loan Activities. This Code of Conduct is supplemental to existing university policies related to conflicts of interest.
CU bans any revenue-sharing arrangements with any lender, whether for institutional or personal gain.
CU does not allow any officer, officer's family member, person involved with student loans or his/her family member to either solicit or accept gifts from a lender, guarantor or servicer of student loans where that gift has more than a de minimis value.
CU does not allow its Student Financial Services staff or anyone in a position of having influence over student loan decisions to consult or contract with lenders for a financial benefit.
CU will not assign a borrower's loan to a particular lender or refuse to certify any loan based on a borrower's selection of a lender.
CU will not request or accept any offer for student loan funds in exchange for: (1) a specified number of loans made or (2) a specific loan volume.
CU will not accept any offer from any lender to provide call center staffing or financial aid office assistance.
Members of the Student Financial Services staff at CU will not accept anything of value for serving on an advisory board, commission or group established by a lender, guarantor or group of lenders.
How We Select Lenders
Cornerstone seeks to connect our students with lenders who will provide them the best service and borrower benefits. We review our lenders' performance and benefits annually.
For the current list of preferred lenders, we reviewed the information provided by several lenders to select the lenders who would best serve our students. In the process, we rated items such as service to the student, service to the school, business model and other items to determine which lenders would be selected.
Students are welcome to select lenders not included on the lists and have the right to do so under federal rules. If you select a lender that is not on our list, you will need to provide Cornerstone the information necessary to process a loan with the lender. To determine what information is needed, please contact the Student Financial Services Office at 616.222.1424.
Sanctions
Violations of university policies, including the failure to avoid a prohibited activity or disclose a conflict of interest in a timely manner, will be dealt with in accordance with applicable university policies and procedures, which may include disciplinary actions up to and including termination from the institution.
Exit Counseling
When you have graduated or are no longer attending Cornerstone, you need to update your records for the Federal Student Loan Program. This includes your contact and reference information. Please complete the exit counseling form. This is an online form and does not need to be done in the Student Financial Services Office.
Responsible Borrowing
You've likely heard that students can feel overwhelmed by student debt. Some students borrow the maximum amount and then leave college as soon as the check comes. Other students borrow more than is needed for tuition and books; they're living off loan checks. And a number of students have loans that are aggregated, delinquent or in default.
At Cornerstone University, we're here to give you the information you need to make wise choices with how you pay for school so that you can thrive during your time here and after you graduate. You don't need to be overwhelmed by student debt. Counter the student loan debt crisis by practicing self-control and following these responsible borrowing strategies:
Borrow only what you need to.
Control your student loan debt by knowing all grant and loan information accessed at Student Aid. This national database shows every student loan and grant under your name and its status. It also provides you an opportunity to ensure you have no outstanding debt you are unaware of or that your loans are not in default.
Admissions Office
Hours
MON - FRI: 8 a.m. - 5. p.m.
SAT & SUN: Closed
Want to Learn More About CU?
Connect With CU