Cornerstone University Appoints Dr. Bradford Sample, Former Provost of Ohio Christian University, As Chief Academic Officer and Vice President for Academics

Cornerstone University is pleased to announce the appointment of Dr. Bradford Sample as its new vice president for academics and chief academic officer. Sample was selected after a nationwide search.
"We are thrilled to have Dr. Sample join the university's senior leadership team," said Dr. Gerson Moreno-Riaño, Cornerstone's president. "I am confident that Sample will wisely leverage his extensive experience in online and traditional higher education to help make Cornerstone the destination of choice university in Christian higher education. I look forward to all that Sample will do, working together with our faculty and staff, to pave the way for Cornerstone to one day have one of its fine graduates in every home in America."
Sample joins Cornerstone University after having spent the last nine years as provost for Ohio Christian University (OCU) in Circleville, Ohio and Bryan College in Dayton, Tenn. At OCU, he led restructuring efforts that consolidated 11 adult, online and traditional programs to meet 21st century challenges and continued to direct retention efforts that produced a 17% increase in online retention and an 8% increase of on-site retention between Fall 2018 and Fall 2021. His career in higher education spans over 20 years as a faculty member and administrator.
"Dr. Sample has a proven track record of academic excellence and scholarly achievement," said Carole Bos, chair of the Cornerstone board of trustees. "Paired with that, he has a deep heart for collaboration and is excited to work with his new colleagues at CU, and to witness how God will work in this season."
In his role as CAO of Cornerstone, Sample will be tasked with driving Cornerstone's preparation for future enrollment growth and market expansion through developing a second-to-none academic student experience, elegantly refining current academic processes, and creating an in-demand suite of programs and world-class general education core that position the university as a highly sought after institution of quality, Christ-centered higher education. Sample's spiritual, intellectual, strategic, organizational and academic leadership is expected to strengthen and reinforce Cornerstone's academic mission to graduate influencers for Jesus Christ.
"I am honored that President Moreno-Riaño selected me to be the next vice president of academics at Cornerstone University, and look forward to working with him, my peers on the cabinet, faculty and staff to accomplish the University's mission," Sample said. "I am excited to join Cornerstone at a time of new vision for the university that is open to innovation, creativity and engaging with its various communities, while remaining committed to Jesus Christ, Christ-centered curricula and the kingdom of God first."
A dedicated student of history and political science, Sample is a double graduate from Indiana University with his Bachelor of Arts in political science and history and his Master of Arts in American history. He also holds a Doctor of Philosophy from Purdue University. As an undergraduate student, he personally financed 100 percent of his education, leading him to develop a passion for disadvantaged students who desire to attend college. Through his work in various leadership positions at OCU, the college has been ranked #1 in social mobility by US News and World Report. The social mobility indicator measures how successfully colleges graduate economically disadvantaged students who receive need-based federal Pell Grants.
At each institution Sample has served, including OCU, Purdue University, Indiana Wesleyan University and Bryan College, he has taught American history, American literature, East Asian history, European history, political science and western civilization. Sample has made numerous contributions to academic journals and books. He wrote the entry for Indianapolis, Ind., in both the "Dictionary of American History" and a biographical essay for "The Governors of Indiana." His work has also been featured in The Swiss American Historical Society Review, "A Biographical Directory of the Indiana Supreme Court Justices" and "The American Midwest: An Interpretive Encyclopedia."
"As a faculty member, I am impressed with his record of scholarship and his continued love of teaching students," said Dr. Michael Pasquale, chair of the Humanities Division at Cornerstone. "He has a track record of seeking collaboration and I look forward to his joining our community in that regard. I look forward to working with Dr. Sample on the implementation of the CU Christian Worldview Statement and Academic Vision Statement along with other academic initiatives."
Alongside his work in research and scholarship, Dr. Sample has embraced opportunities for online learning as demand from non-traditional students has increased. He has written history curricula specifically for multi-site and multi-modality programs and has contributed to research on serving non-traditional students. In his work as associate provost at OCU, he initiated OnlinePlus, an innovative online program for 18-year-old to 22-year-old students. He also assisted in expanding adult programs at Bryan College, which grew by 120% from 2009 to 2014. His background in developing and implementing online curriculum will greatly benefit Cornerstone's continued development of more robust online programming for learners of all ages.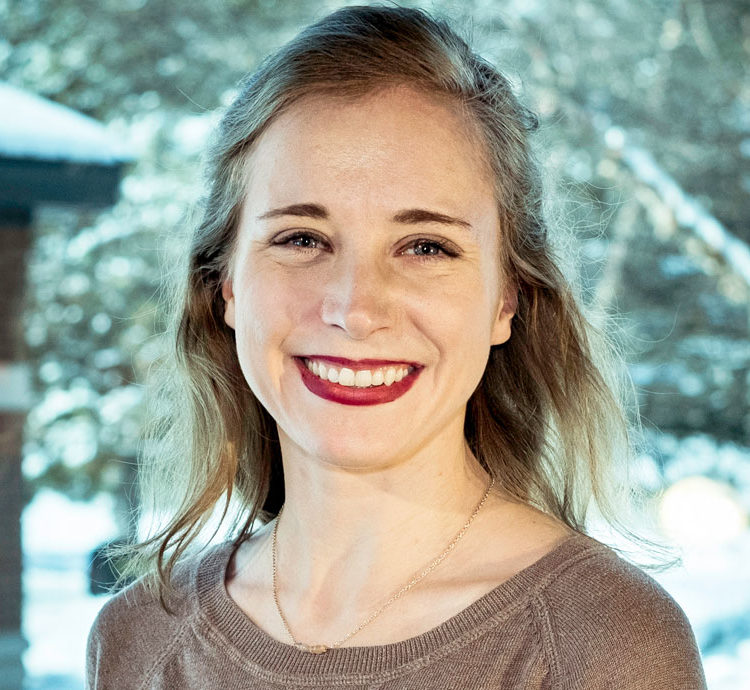 Audrey DeBoer
Audrey DeBoer (B.A. '18) is the copywriter for Cornerstone's Marketing & Communications Office. She graduated from Cornerstone in 2018 with a degree in broadcast communication. Audrey also serves on the Young Alumni Council.
In her spare time, Audrey enjoys working on her own full-length work of fiction, co-hosting a podcast about the Academy Awards and participating in local theatre productions.
Want to Learn More About CU?
Connect With CU