Physically Distant,
Socially Connected:
How Cornerstone's Classrooms Adapted During a Pandemic

In mid-March 2020, undergraduate students at Cornerstone University were asked to leave their residence halls with the hope that they would be able to return a few weeks later. However, as was the case for institutions across the nation, CU students completed the remainder of the semester remotely—away from their roommates, classmates and professors. Fast-forward to October 2020, as the campus, dorms and classrooms are once again joyously populated. It is clear to see that while that departure was sudden and sad, it was also an invitation—to collaboration, to discernment and to faith.
What happened behind the scenes at Cornerstone was monumental—work to shift classes to a virtual platform could have taken months. Yet, it was accomplished in just one week. According to Student Online Support (SOS) leadership team members Dr. Jeremy Osborn, associate professor of communication, and Dr. Shawn Newhouse, senior vice president of traditional undergraduate academics, the strategy was simple: Stay student-focused and be consistent.
"Our students' worlds were turned upside down," Osborn said. "They had enough uncertainty already. Being student-centric, we wanted them to learn the material and stay connected, but we had to flip things quickly."
In order to best serve students and faculty, Cornerstone found new ways to use the tools already available and known to students. In this way, faculty could focus on teaching instead of navigating new gadgets. For those class components that required new technology, such as transferring all course materials online, Newhouse and her team used a "train the trainer" model. This model had key faculty members trained on the new technology, and in turn, they trained peers in their academic division. Collaboration and teamwork continued amongst faculty and staff, transforming a crisis into an opportunity to grow, learn and adapt.
"With our quick departure in March, we didn't know where students were going or if they'd be in different time zones," Osborn said. So, in addition to being online, faculty shifted to an asynchronous model in which all course work was recorded or otherwise made available for students to access at their convenience.
The fast transition and hard work of faculty and staff was not lost on students.
"When the semester wrapped up, I read every single faculty survey and course evaluation with comments specific to the online experience," Newhouse said. "By and large, the common theme was that CU students appreciated the attentiveness and the relational aspect of faculty."
Tanishq Daniel (B.S. '23) was finishing his first year as a data science engineering major when students were told to move out of the residence halls. As an international student from India, Daniel could not return home due to travel restrictions. Yet, he was not left behind. Student Development provided apartment rooms on campus for international students, coordinated physically-distanced activities and sent care packages.
"It was incredible how fast we all adapted to everything. I was afraid about what would happen to me, but CU took charge," Daniel said. "They don't just say that they show love. They actually show it."
As summer arrived, the work began of preparing for a number of different options for learning in the fall. Traditional undergraduate academics at Cornerstone are rooted in relational learning and the emotional and educational value that proximity brings. This was the inspiration and motivation the SOS team used to create a way for students to be back on campus this fall.
"Students come to Cornerstone for the in-person, relational learning," Newhouse said. "But we've also demonstrated that we can carry that into a virtual space while our students want to be here. Learning can happen in a variety of different ways. But no matter what, we're still going to be Cornerstone."
Despite the fact that planning for the fall semester was somewhat of a moving target, Newhouse, Osborn and the SOS team planned a model for the semester early in the summer and stuck with it. With the faculty having experienced teaching online, the leadership team shifted to adding course delivery options and additional tools to make both online and in-person learning happen seamlessly. Adaptable technology was installed in each classroom on campus over the summer, namely Kandao cameras, which allow the online viewer a 360-degree view of the entire classroom. These cameras, when used with the business communication platform, Microsoft Teams, allowed classes to proceed live in the fall with students able to participate both in the classroom and online in real time.
Despite all of the hours of testing, training and problem-solving, Osborn recalled, he never got an email from a faculty member that said, "This is impossible."
"It was a season of learning for our faculty," Osborn said. "It was collaborative. They were willing to learn new things so that online students could have the same experience as the students who are physically present in the room."
With the fall semester well underway, Osborn and Newhouse have both received gratitude from students, and the sense that students are happy to be back on campus. As the COVID-19 pandemic continues to evolve, faculty, staff and students are all remaining flexible and optimistic.
"From a teaching perspective, we will never be the same," Osborn said. "This has launched us forward in terms of what we can do in the classroom. Students clearly appreciate the changes professors have made. All students learn differently and appreciate the breadth of options they now have."
"COVID-19 could've easily gotten in the way of our vision, but it didn't," Newhouse said. "It was a lot of work, but we persevered and kept moving forward. I couldn't be more proud of our faculty and academic team."
Those months apart could have distanced and discouraged the campus community. But instead, they bonded the Cornerstone family like never before. What could have isolated both students and faculty was actually a catalyst for greater collaboration and creativity.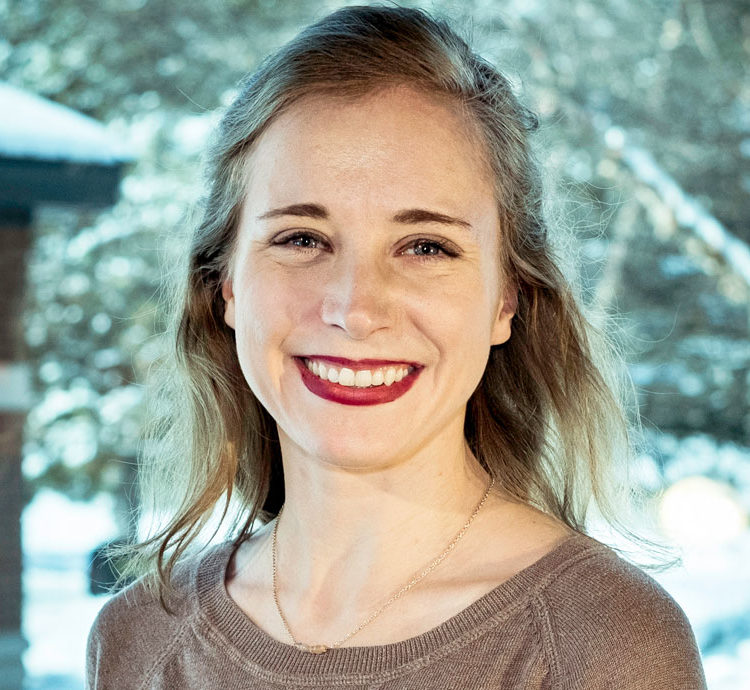 Audrey Wierenga
Audrey Wierenga (B.A. '18) is the copywriter for Cornerstone's Marketing & Communications Office. She graduated from Cornerstone in 2018 with a degree in broadcast communication. Audrey also serves on the Young Alumni Council.
In her spare time, Audrey enjoys working on her own full-length work of fiction, co-hosting a podcast about the Academy Awards and participating in local theatre productions.
Want to Learn More About CU?
Connect With CU