Power Washing, Painting
and Prayer: Cornerstone Students and Staff Make an Impact in Puerto Rico

When most students think of spring break, they think of laying on a beach or spending time with friends from their hometown. For a group of 13 Cornerstone University students and staff, they spent spring break serving in Puerto Rico.
Mario Adkins, associate director of academic success at Cornerstone, led a weeklong trip to the Añasco and Aguadilla communities in Puerto Rico. In 2017, the entire island of Puerto Rico was devastated by two hurricanes, and since 2020, the island has battled with the repercussions of the COVID-19 pandemic. When Adkins heard about the opportunity to travel to the region and serve, he knew it would be a great fit for Cornerstone students to be the hands and feet of Jesus.
"These students lived out Cornerstone's mission statement," Adkins said. He was incredibly proud of how the students showed up to serve and were willing to do whatever was asked of them. "This service learning trip was an example of how education is more than just textbooks and lectures."
Two of the students who came with Adkins were Brian Griffin (B.A. '23) and Annika VanOverloop (B.A. '25). Griffin had felt for some time that he wanted to study abroad but hadn't found the right opportunity yet. VanOverloop wanted to go with a group of friends who all ended up canceling.
"I still went," VanOverloop laughed, "and I would say we all became really good friends. We came in as complete strangers, and we left as a completely new family."
Neither had ever been on a mission trip before. Griffin even admitted that he was skeptical about short-term missions and the impact they could truly have. After his transformative experience in Puerto Rico, he now sees the merits of them.
"I realized how important it was to be a global citizen," Griffin said. As a media major, he now wants to help tell the stories of people like the ones he served while in Puerto Rico. VanOverloop, an elementary education major, learned more about what it truly means to humbly serve, which she will one day do in a classroom setting.
Throughout the week, students and staff partnered with a local ministry called Puerto Rico Somos Gente, which was created in response to Hurricanes Irma and Maria. The ministry purchased a school, which Adkins and his team helped renovate. This included painting, sorting and power washing in 80-degree heat.
Apart from the work, it also included connecting with the locals—sometimes in unexpected ways. Adkins recalled taking the students on a walk through the town, where they were stopped by a woman, a complete stranger, who prayed for them and their work.
"Even after everything they'd been through," VanOverloop said, "they always had a positive viewpoint and were so hospitable. They were right there with us to laugh with us and share in our joys."
The students especially enjoyed the church and worship services they were able to attend, singing songs and praying prayers in both English and Spanish. By the end of the week, they were exhausted, but as Griffin put it, "Our hearts were so full."
"The focus was on Christ," Adkins said, "and that's what energized us."
Puerto Rico Somos Gente has already invited Cornerstone back to serve again. Adkins hopes to plan another trip for 2023, and both VanOverloop and Griffin said they'd go back in a heartbeat. It's Adkins' desire for service trips like this one to be part of each Cornerstone student's education—it truly influences how they view the world and their calling.
"As someone who works with college students, I really value experiential learning," Adkins said. "It's one thing to do an activity in a classroom and another to take a plane to an island to do some service work. These students have become global influencers, and now they're going to bring that learning back with them and into their vocations."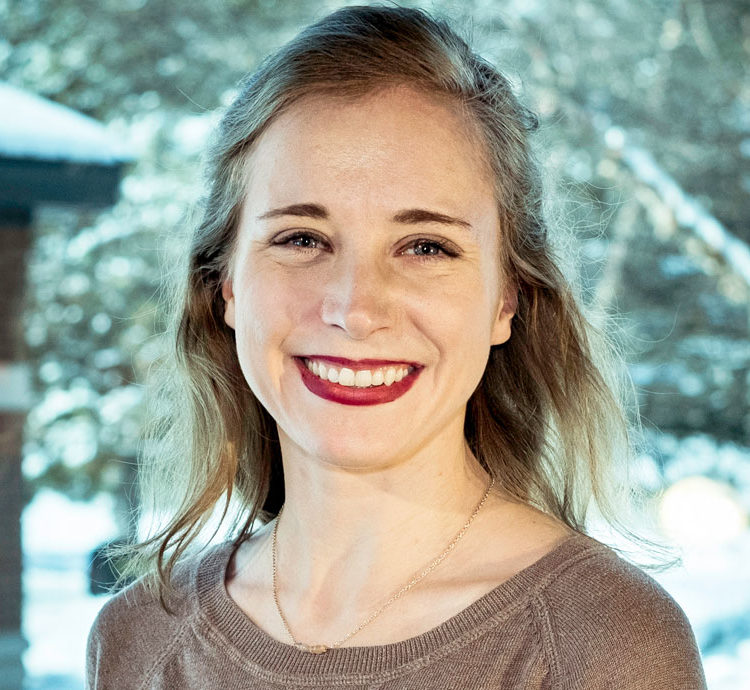 Audrey DeBoer
Audrey DeBoer (B.A. '18) is the copywriter for Cornerstone's Marketing & Communications Office. She graduated from Cornerstone in 2018 with a degree in broadcast communication. Audrey also serves on the Young Alumni Council.
In her spare time, Audrey enjoys working on her own full-length work of fiction, co-hosting a podcast about the Academy Awards and participating in local theatre productions.
Want to Learn More About CU?
Connect With CU