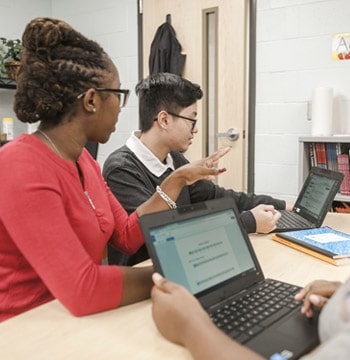 ESL Endorsement
PROGRAM START DATES
Classes start on Oct. 25, 2023
Classes start on Jan. 16 and Mar. 13, 2024
Credit Hours
24 with up to 18 hours in transfer credits possible


Cornerstone University and the M.A. in TESOL degree are accredited by the Higher Learning Commission.
Expand Your Teaching Influence With an ESL Endorsement
If you are passionate about enabling students to become proficiently bilingual, gaining your English as a second language certification prepares you with influential skills to serve your students, school and community. With an accredited ESL endorsement, you can offer life-changing communication capabilities for students and advance your teaching career as a highly qualified ESL professional.
For licensed teachers, Cornerstone University's English as a Second Language endorsement is offered online to ensure flexibility to pursue the ESL certification in Michigan or other states on your schedule. Michigan offers reciprocal agreements with many other states. Taught by experienced faculty who are passionate ESL and TESOL educators, you will learn the latest tools, strategies, and research to effectively transfer language learning to broaden your career opportunities and impact. And you will explore how to integrate Christian faith into your calling to teach with excellence, character and compassion. You will:
Expand essential foundations in TESOL language acquisition and development, English language teaching methods and lesson planning, linguistics, teaching grammar and vocabulary, bilingualism, and cultural and social factors.
Learn from respected ESL and TESOL faculty educators and administrators with real-world experience who are passionate about English as a second language and Christian ministry.
Flexible courses offered 100% online.
Complete in two years or less.
Transfer up to 75% credit hours.
One of the most affordable degree programs per credit hour.
Why Choose an Accredited English as a Second Language Endorsement from Cornerstone University?
With over 80 years of experience in traditional and online higher education, Cornerstone University has prepared education, teaching, ESL and TESOL professionals who serve the K-12 and adult learner communities with skill, character, and distinction inside and outside the classroom. The ESL endorsement is accredited by the respected Higher Learning Commission (HLC).
What sets a Cornerstone education program apart is our commitment to provide the most excellent academic real-world education taught from a Christian worldview by experienced and respected education faculty and leaders. Our mission is to prepare bold, Christ-centered leaders who will create solutions to tomorrow's educational challenges to better serve our communities, students and families. Choose from over 75 in-demand degrees, certificates and concentrations to customize the learning you need to fit your career goals in education.
Start your ESL online today with Cornerstone University!
Knowledgeable, passionate enrollment counselors are ready to guide you from application to graduation!
Courses are offered 100% online to fit your busy life. No GRE or GMAT required.
Transfer up to 75% of an eligible degree's credit hours.
Scholarships and aid programs are available.
Tuition is priced for affordability compared to other private nonprofit universities, ensuring a degree that can fit your budget.
Experience one-on-one faculty support from experienced, Christ-centered educators.
Free student support resources are available—including writing, pastoral counseling services and more—to provide comprehensive support!
Admission Requirements
A completed bachelor's degree with a minimum 2.7 GPA from an accredited institution
Official college and/or military transcripts
90%
Of students work full time while pursuing a degree.
8
Courses included in the program.
What Degree Courses Will You Study?
LIN-565 TESOL Methodology I
An examination of various methods and techniques used to teach language components (grammar, vocabulary, and pronunciation) and language skills (reading, writing, listening and speaking). Practice in developing and implementing balanced and effective language lesson plans will be provided along with evaluating and selecting appropriate ESL teaching materials to match various ESL audiences and teaching contexts.
LIN-525 Introduction to Linguistics
An introduction to the nature and structure of human language. Students focus on the goals, techniques and subject matter of modern linguistics.
LIN-555 Sociolinguistics
An examination of language in its social and cultural contexts. This course presents the basic socio-cultural variables (such as gender, age and social status) and shows their relation to language use and language learning. Areas covered in the course include bilingualism, dialectology, language variation and style with their relation to multilingual educational situations.
LIN-556 Second Language Acquisition
An examination of the process of learning a second language. This course surveys current SLA theory and learning models. Emphasis is given to the ways these theories and models shape pedagogical practices in ESL classrooms. Linguistic, cognitive, affective, cultural and social factors influencing the acquisition of another language are explored.
LIN-559 TESOL Lab
In this course, participants will apply their theoretical learning within their own classroom environments via a lab course. This course will follow a three or four-member peer-coaching format through which students will choose focus areas of instruction that they would like to grow. They will then work through a teach, record, reflect, share and peer-coach process with their team. The goal is individual growth through peer encouragement and accountability.
LIN-594 TESOL Capstone
A capstone course designed to allow students to integrate various principles of the TESOL program. This course includes two possible tracks: thesis or non-thesis. Students seeking a Michigan Department of Education endorsement are required to choose the non-thesis option, which includes 60 hours of practicum. Prerequisite: LIN-565
Steps for Michigan Teachers
After finishing the ESL endorsement or M.A. in TESOL program, you'll need to pass the Michigan Test for Teacher Certification's English as a Second Language (086) test. Computer-based MTTC testing is available by appointment year-round, Monday through Saturday (excluding some holidays). To add your ESL credentials to your teaching certificate, you'll need to begin the process by submitting your application through the Michigan Online Educator Certification System (MOECS).
You Can Start Your Journey Now!
An enrollment counselor is ready to help you start your influential education advanced certification preparation now. Cornerstone offers:
Accelerated admissions to get you started sooner.
Competitive tuition rates—some of the most affordable in the region.
Generous credit transfers—up to 75%.
Financial aid advisers to explore funding opportunities for this valuable life investment.
Start your application for a bold, influential life with your ESL endorsement from Cornerstone University!
Related Programs
At Cornerstone University, we're passionate about welcoming you into a learning community designed to help you reach your full potential. Take your education further with additional programs designed for both educators and community leaders.
Admissions Office
Hours
MON - FRI: 8 a.m. - 5. p.m.
SAT & SUN: Closed
Want to Learn More About CU?
Connect With CU