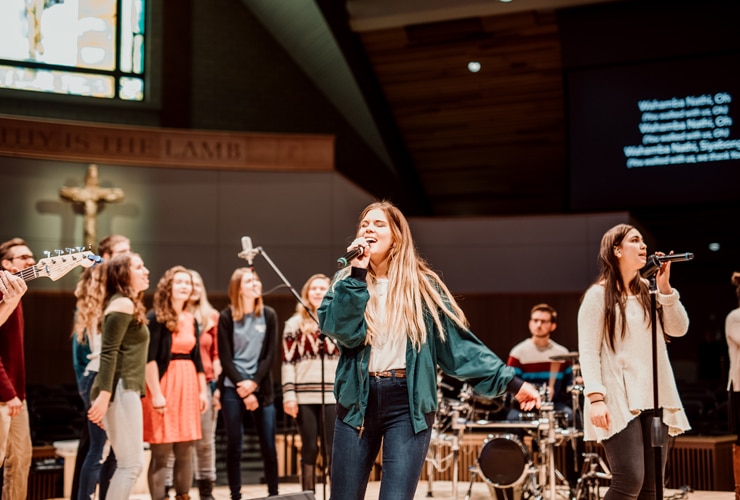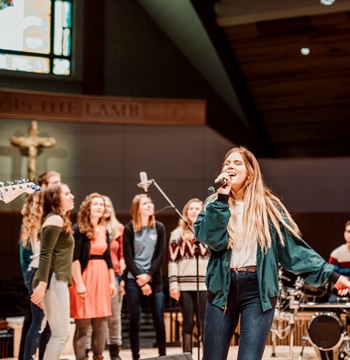 Undergraduate

Giving Our All
to the One Who Gave All
Worship Ensemble
Worship is rooted in fellowship, theology and transformation of the entire person. The worship ensemble at Cornerstone University serves in leading the campus community in corporate singing as we encounter God's presence. It is a small ensemble of primarily drums, bass, keyboard, guitars and vocalists who are passionate about becoming faithful disciples of Christ and leading others to do the same.
Students in the ensemble have the opportunity to cultivate spiritual growth through the practice of corporate worship and develop a growing awareness of our communion as a diverse community. Members of the ensemble have the privilege of serving the university through leading worship in chapel and contributing to a thriving campus community.
Book Us for an Event
Would you like a CU Worship Team to lead worship for your church, youth event, or high school chapel? If you are interested, email our event coordinator at deb.vandermyde@cornerstone.edu.
Admissions Office
Contact
P:

F:

616.222.1418
Hours
MON - FRI: 8 a.m. - 5 p.m.
SAT & SUN: Closed
Want to Learn More About CU?
Connect With CU