Cornerstone University Celebrates 42nd Commencement Exercises

Cornerstone University's Mol Arena became a hub of excitement on Saturday, May 7 as the university celebrated its 42nd commencement exercises and the class of 2022 received their associates, bachelor's, master's or doctoral degrees.
Families from all over the world tuned in via livestream and thousands filled the bleachers, to honor their graduate during three ceremonies.
After two years of either virtual or modified commencement events, the 2022 ceremonies were particularly joyous. Guests brought colorful signs to hold up when their grad crossed the stage. The "hold your applause" rule was quickly overturned, with whoops and cheers after each name was called. And a roar erupted from the crowd when the graduates, having turned their tassels, were showered with blue and gold confetti.
This year, Cornerstone graduated over 300 traditional undergraduate students, over 70 Grand Rapids Theological Seminary students and over 200 Professional & Graduate Studies students.
Cornerstone president Gerson Moreno-Riaño, Ph.D., provided the keynote address at each of the ceremonies, challenging graduates to emerge from the difficulties of our time as the "Greatest Generation" of the 21st century. This was Moreno-Riaño's first commencement ceremony with Cornerstone, and he was overjoyed to send off his first class with a charge to influence the world for Christ.
"Go and give every ounce of your life to Jesus Christ, the greatest one, and in so doing, become the greatest generation of this century," Moreno-Riaño said. "Because you will give yourself entirely to the one who alone is worthy of all adoration, glory, power and love, and who in turn will give you the grace to turn the world upside down. Be the greatest generation for Jesus Christ."
Traditional Undergraduate
The traditional undergraduate class of 2022 had three valedictorians—Benjamin Snyder (B.S. '22), Nicole Broekhuizen (B.S. '22) and Jezelle Quakkelaar (B.A. '22). Each offered brief remarks and words of thanks and encouragement to their fellow graduates.
"Every single one of us graduating today is earning a degree that we're hoping will give us a good life," Quakkelaar said in her speech. "Whatever your position in life ends up being, that's your mission field. Let's not be complacent. If you can't change the whole world, change someone's world."
Undergraduate students sang "The Benediction" together one last time at the conclusion of the ceremony, a beloved tradition of all Cornerstone graduates. Punctuated by a shower of blue and gold confetti, the ceremony was a true celebration of the perseverance and accomplishments of Cornerstone students.
Grand Rapids Theological Seminary
Early Saturday afternoon, Grand Rapids Theological Seminary gathered to receive their ministry and counseling degrees. Attendees enjoyed special music, charges from faculty and staff and an address from Moreno-Riaño.
Grand Rapids Theological Seminary honored several graduates this year in their graduation ceremony:
Baker Book House Award: Nicholas Boonstra (M.A. '22).
Leon J. Wood Award: William Berner (M.A. '22).
Carl B. Hoch Jr Award: Raymond Sabon (M.Div. '22).
Urban Cohort Community Award: Minister Edward Forrest (M.A. '22).
Urban Cohort Academic Award: Jakob Lang (M.A. '22).
Nikolai Wiens Award: Jacob Johnson (M.Div. '22).
William Clarence Haas Award: Bikram Ranapheli (M.A. '22).
Owen John Lyndecker Memorial Award: Raymond Sabon (M.Div. '22).
Educational Ministries Award: Rachel Bailey (M.A. '22).
Counseling Award: Tony VandenHoek (M.A. '22) and Marjorie Sonderman (M.A. '22).
President's Award: Dwight Gutridge (M.A. '22).
Dean's Award: Heather Baez (M.A. '22), Richard Gamble (Th.M. '22) and Jakob Lang (M.A. '22).
Darryl Hill (M.A. '22), one of the GRTS honor graduates, addressed the students after the conferring of degrees.
"At GRTS, I had the ability to forge lifelong friendships with my brothers and sisters in Christ," he said. "My professors provided us with the academic rigor and critical thinking that will make us successful in our respective ministries."
Professional & Graduate Studies
Saturday's final ceremony recognized graduates from Professional & Graduate Studies for their perseverance in their bachelor's, master's and doctoral programs.
Two faculty members were honored during the PGS commencement ceremony. Elizabeth Bolthouse received the Colleen S. Smith Award for excellence in teaching and Dr. Robert D. Hayden received the Kenneth I. Vanderberg Award for excellence in teaching.
Anna McClatchy (Ed.D. '22) was chosen to deliver the student address for the ceremony. She equated preparing a speech for her fellow classmates with writing her thesis—a lot of researching, editing and wondering if she should just start over. But McClatchy, just like her peers, persevered.
"It wasn't what was written on the syllabi that was most impactful," she said. "The unintentional lessons I received are irreplaceable—trust the process. Ask for and graciously receive help when you need it. And refine your contributions."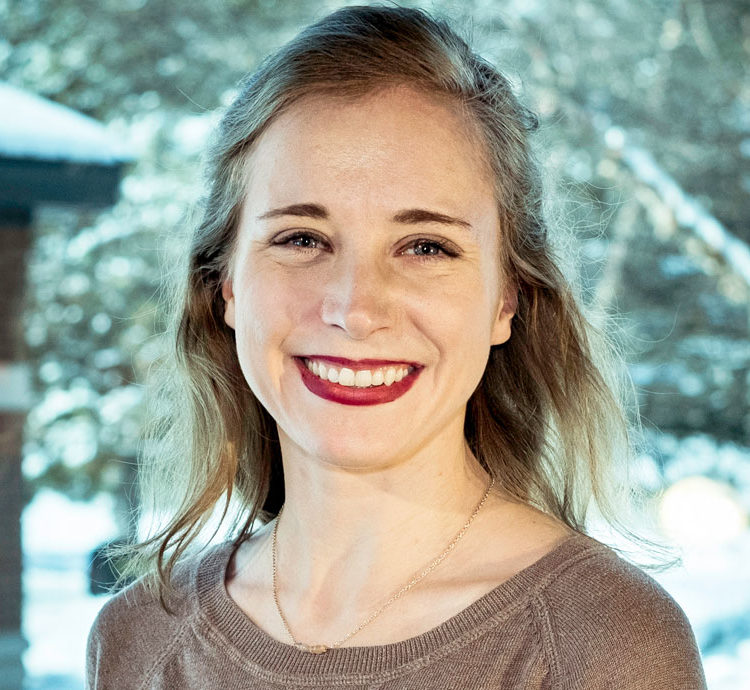 Audrey DeBoer
Audrey DeBoer (B.A. '18) is the copywriter for Cornerstone's Marketing & Communications Office. She graduated from Cornerstone in 2018 with a degree in broadcast communication. Audrey also serves on the Young Alumni Council.
In her spare time, Audrey enjoys working on her own full-length work of fiction, co-hosting a podcast about the Academy Awards and participating in local theatre productions.
Want to Learn More About CU?
Connect With CU