First Cohort of Nursing Students Participate in
Blessing of the Hands

An air of excitement filled Christ Chapel on Thursday, Aug. 26, as the first cohort of 16 nursing students gathered for Cornerstone University's first annual Blessing of the Hands.
The Blessing of the Hands is a ceremonial event for nursing students about to begin their program. It reinforces the importance of physical touch in the life of a nurse and carries an even higher importance as Christ followers. Cornerstone's nursing students will one day be the hands and feet of Christ in the medical field.
"This is a time to re-center on what has brought you here," said Dr. Maria McCormick, director of the Nursing Division at Cornerstone at the start of the ceremony. "You're surrounded by your support group, your prayer warriors and the people who are going to go through this program with you."
Some of the students' parents were also in attendance, and others tuned in via Zoom from their homes across the country. The ceremony began with music from Frank (B.A. '19) and Amanda Russell (B.A. '21) and a message from Dr. McCormick on defining moments in life.
"God blesses us with defining moments that take us out of our human experience," she said. She used biblical examples like Moses and the burning bush and Paul on the road to Damascus.
"It's fair to say that you'll experience defining moments in the next three years and in your life as a nurse—your first clinicals, your first patient, the first time someone takes you by the arm and says, 'Thank you,'" McCormick added. "But you'll also face defining moments that challenge you. You'll experience physical, mental and spiritual lows. But by His grace, you will grow in resilience as you face adversity."
McCormick also reinforced that the students won't simply learn about the clinical side of nursing, but also how their job as a nurse is a vocation, and their mission is for the praise of God's glory.
"Through this program, you'll not only receive a rigorous academic experience, but also a passion that goes beyond the paycheck," McCormick said.
The students' hands were then anointed with oil, and the staff of the Nursing Division—McCormick, nursing coordinator Amy Goggins and assistant professor of nursing Misty Emmons—prayed a blessing over each student.
Each student beamed as they accepted the blessing, a joy mixed with anticipation for their program. Proud parents looked on and took videos and photos of their students being anointed.
The ceremony closed with a communal blessing over the students, a promise that the faculty and staff of Cornerstone would support these students and the works of their hands and a prayer by the students to do all things—their studies, their work and their calling—for the glory of the One who created them.
The ceremony and reception that followed were both sponsored by CAE Healthcare, a generous supporter of Cornerstone's nursing program.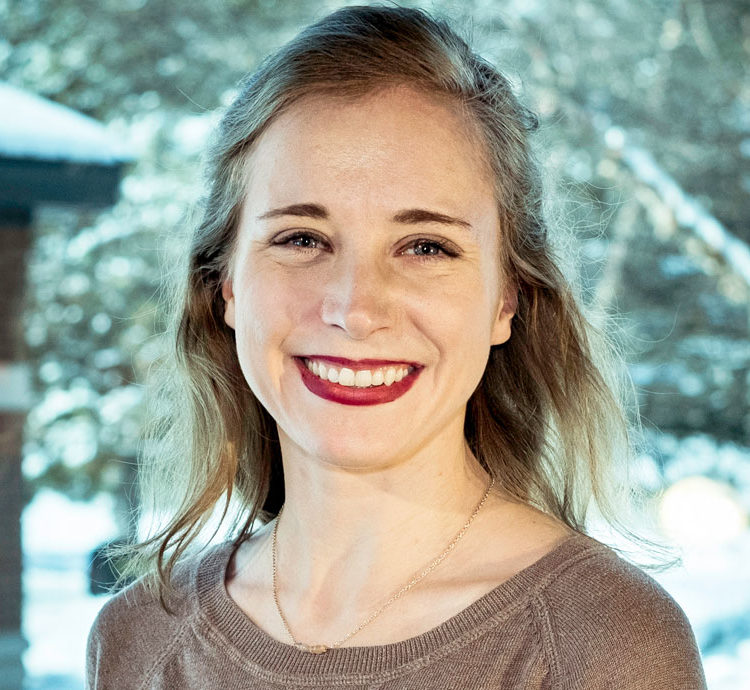 Audrey Wierenga
Audrey Wierenga (B.A. '18) is the copywriter for Cornerstone's Marketing & Communications Office. She graduated from Cornerstone in 2018 with a degree in broadcast communication. Audrey also serves on the Young Alumni Council.
In her spare time, Audrey enjoys working on her own full-length work of fiction, co-hosting a podcast about the Academy Awards and participating in local theatre productions.
Want to Learn More About CU?
Connect With CU