Cornerstone University Unveils Mary De Witt Center for Nursing in Ribbon-Cutting Ceremony

On Monday, April 26, Cornerstone University officially opened the Mary De Witt Center for Nursing in a ribbon-cutting ceremony.
The addition of the nursing program is highly missional for Cornerstone as a Christ-centered university. Students will not only be prepared to distinguish themselves in their nursing profession but will be motivated to serve as instruments of the love of Christ to those in need.
The ceremony marks a new chapter for academics at Cornerstone. For years, the university has offered programs in medicine such as pre-physician's assistant, pre-med and pre-nursing. Now, Cornerstone will offer a full-fledged Bachelor of Science in Nursing (BSN), pending approval from the Higher Learning Commission in summer 2021. The BSN program at Cornerstone will effectively prepare graduates to become licensed registered nurses in a learning environment where Jesus Christ is central.
Donor Mary De Witt attended the event, along with Dr. Joe Stowell, university president, and members of the Cornerstone board of trustees. Nursing students from the program's very first cohort also witnessed the grand opening. The De Witt's steadfast support of the university over the past decades has left an indelible mark on Cornerstone's campus. The nursing facility is only the latest of the De Witt family's contributions.
"We are so thankful to Mary De Witt for her continuous support of Cornerstone," Stowell said. "De Witt is a familiar name on our campus, and we are so honored to have Mary's name on this building."
Also in attendance were longtime friends of the university J.C. and Tammy Huizenga. The Huizengas, as well as Dave and Carol Van Andel, significantly contributed to the funding of the nursing center and are strong advocates for its ongoing success.
"Not only have you given us the opportunity to learn medicine," said nursing student Jaden Herrema (B.S.N. '23) at the ceremony, "but you have given us the greatest opportunity to learn medicine at this top of the line facility."
After the ceremony, which was open to students, faculty and staff, members of the campus community were encouraged to tour the state-of-the-art facility.
The 8,100-square-foot, $3.5 million nursing facility, designed by C2AE and contracted by Christman Co., is a marvel not only of architecture but of innovation. Designed to imitate a hospital wing, the facility also houses seven artificial intelligence mannequins designed by CAE Healthcare, a leader in education technology in health care, security and aviation. These mannequins are responsive to medical treatment and can be programmed to exhibit a wide variety of symptoms. The mannequins teach students in the areas of general health care, labor and delivery, neonatal, geriatric and long-term care.
"Students not only learn using this technology," said Dr. Maria McCormick, director of the Nursing Division, during the ceremony, "but they can also correct mistakes in real time as they prepare for their careers as nurses."
The facility also features hospital-grade beds and equipment, a Panda Warmer for the neonatal unit and touchscreen vital monitors. Recently, the facility acquired IV pumps and a Pyxis machine, which automatically dispenses medication.
All of these aspects of the facility are designed to prepare BSN students for their clinicals at area hospital systems like Spectrum Health, Mercy Health and Metro Health. It will also prepare them to sit for the NCLEX, or National Council Licensure Examination, which will qualify them to become registered nurses.
To learn more about Cornerstone's new BSN program, visit the nursing major web page.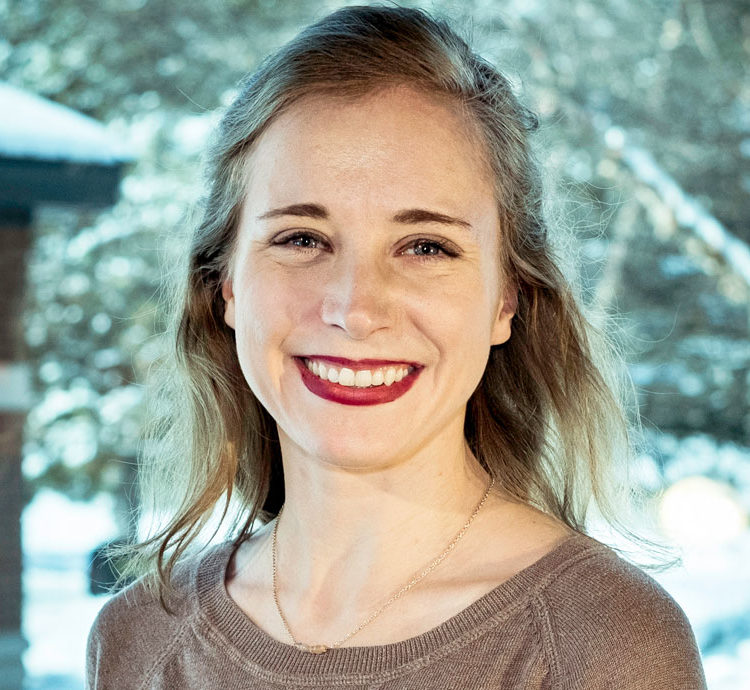 Audrey Wierenga
Audrey Wierenga (B.A. '18) is the copywriter for Cornerstone's Marketing & Communications Office. She graduated from Cornerstone in 2018 with a degree in broadcast communication. Audrey also serves on the Young Alumni Council.
In her spare time, Audrey enjoys working on her own full-length work of fiction, co-hosting a podcast about the Academy Awards and participating in local theatre productions.
Want to Learn More About CU?
Connect With CU