Cornerstone Announces New Schools, New Seminary Name, and Enhanced Affordable Program Offerings

Cornerstone University is pleased to announce today our new academic schools and an enhanced general education core to meet the demands of a 21st-century higher education market and better serve students and families in Michigan. At a time when higher education faces economic and value proposition headwinds, Cornerstone is investing in a refined discipline-specific academic and seminary structure, more accessible programs, and growth in online courses. The new structure also features industry-experienced deans who are champions of preparing students of excellence and character, ready to meet marketplace demands and become future leaders in their chosen fields.
"Cornerstone must provide an outstanding academic and student experience that offers an innovative, high quality, sophisticated Christ-centered education for everyone whether on campus or online," said Dr. Gerson Moreno-Riaño, president of Cornerstone University. "After a year of intensive review, the board of trustees and academic leadership unanimously support the new schools, refinements, and investments in creating extraordinary value for our students."
The new academic structure includes four schools and a renamed seminary effective immediately that will combine the programs for both online students and those at the Grand Rapids campus. Cornerstone's new academic structure includes The School of Business & Innovation led by Dean Alexandria Baldridge, MBA; The School of Education & Human Services led by Dean Kim Hofstra (Ed.D. '21); The School of Health, Science & Technology with a national search underway for the school's first dean; and The School of Ministry, Media & the Arts led by Dean Michael Pasquale, Ph.D.
"The vision for the academic refinements reflect Cornerstone's commitment to offer a world-class education that is relevant and responsive to the needs of our students and the evolving demands of the industries and ministries students will serve and lead,' offered Dr. Bradford Sample, chief academic officer of Cornerstone University. "A Cornerstone education must be of the highest quality, considered a highly valued investment, and unwaveringly committed to a Christian worldview."
The benefits of the new model will:
Enable students to enroll in any classes in ways that fit their busy schedules through the alignment of online majors and Grand Rapids majors.
Grow the number of available programs online and more rapidly bring new ones to a larger market both in and outside of Grand Rapids.
Establish unique and distinctive programs that are available to students throughout the nation and the world within a discipline-specific structure of industry-proven scholars, practitioners and experts.
Feature Christian sophisticated relevance woven into coursework and capstone courses within the majors.
Offer undergraduate-to-graduate transition initiatives, such as 4+1 programs, that incentivize students to continue their education at Cornerstone.
Known as one of the most affordable private, nonprofit universities in the region, reduce costs by streamlining student processes, eliminating requirements, courses, and activities not beneficial to learning outcomes, and sharing resources within the new structure.
Offer online and on-campus courses conveniently so that students can take general education courses of their choosing and be assured of the same high quality.
Provide students an introduction to open, respectful dialogue, wisdom, and various ways of knowing. Transparently discussing life's big questions in the areas of English and literature, mathematics, science, theology and Bible, humanities, and the social sciences.
"The decision to move to schools will continue to support Cornerstone's mission to create influencers for Christ beyond our students' time at Cornerstone," said Ty Mason (B.S. '15), chair of Cornerstone's alumni board. "It will be a great opportunity for our alumni to continue to collaborate and support each other in their respective professional industries. The specific focus allocated to each academic area will provide more targeted support for students and alumni regarding career opportunities, industry connections, mentoring programs, guest lectures and networking opportunities, which will benefit both our current students and graduates."
Cornerstone University's deans will model and champion the university's foundational Biblical commitments, ensuring their sophisticated integration in their schools' operations, performance and outcomes.
Transforming Grand Rapids Theological Seminary Into Cornerstone Theological Seminary
For 75 years, the seminary has served the local Grand Rapids community with excellence. To address significant declines in seminary enrollments nationally and regionally, transformational changes will provide a Cornerstone seminary education that is relevant, accessible, compelling and unwaveringly Biblical.
Effective this summer, the seminary's new name—Cornerstone Theological Seminary (CTS)—denotes Cornerstone's commitment to one Christ-centered mission, academic vision and statement of faith for the university. Cornerstone Theological Seminary is accredited by the Association of Theological Schools' (ATS)  The name change will also allow CTS to benefit from the Cornerstone University brand recognition and reputation, growing the school's reach and impact as it continues to equip students to faithfully pursue their God-given ministry calling.
"The decision to bring alignment to the name of the seminary reflects more than pragmatism," Keoni Hughes (M.Div. '17), an alumnus of the seminary, shared. "It reflects thoughtful leadership that desires unity of vision, mission and values between the undergraduate program and the seminary. This shows a desire for a spirit of unity, which is the heart of Jesus: our true Cornerstone."
Following an extensive review of the curriculum and academic programs conducted by Dr. Thomas Webber (B.A. '79, M.Div. '84), an alumnus and former interim seminary dean, Dr. Bradford Sample, vice president and chief academic officer, Dr. Jeff Halsted (M.Div. '99, Th.M. '01), the new seminary dean, Dr. Jonathan Marko, associate vice president for academics, Dr. Moreno-Riaño, seminary faculty and a group of local pastors, the board of trustees approved changes in January 2023 that aim to strengthen the Biblical and theological core of the degrees offered. In detail, the seminary:
Reduced the Master of Divinity (M.Div.) credit hours while retaining seminary quality in all languages, Ministry Residency, Bible and theology courses. Better meets the needs of ministry leaders who study online and continue to minister.
Eliminated or revised some Master of Arts programs to focus on seminary and ministry-relevant courses and skills.
Created a Master of Divinity model in which students may earn a Master of Arts degree first with credits that build toward a future M.Div.
Designed a foundational core curriculum within the seminary's programs that ensures a base of Biblical, theological and ministry knowledge.
These changes to the overall university structure, courses and programs aim at furthering Cornerstone's dedication to its first principles—Biblical truth, encouraging deep relationship with Christ and offering the world an excellent education within an unwavering, bold Christian worldview to influence the world for Jesus Christ.  For questions regarding the new academic structure or the university's 75 plus accredited programs, please contact 616.222.1426.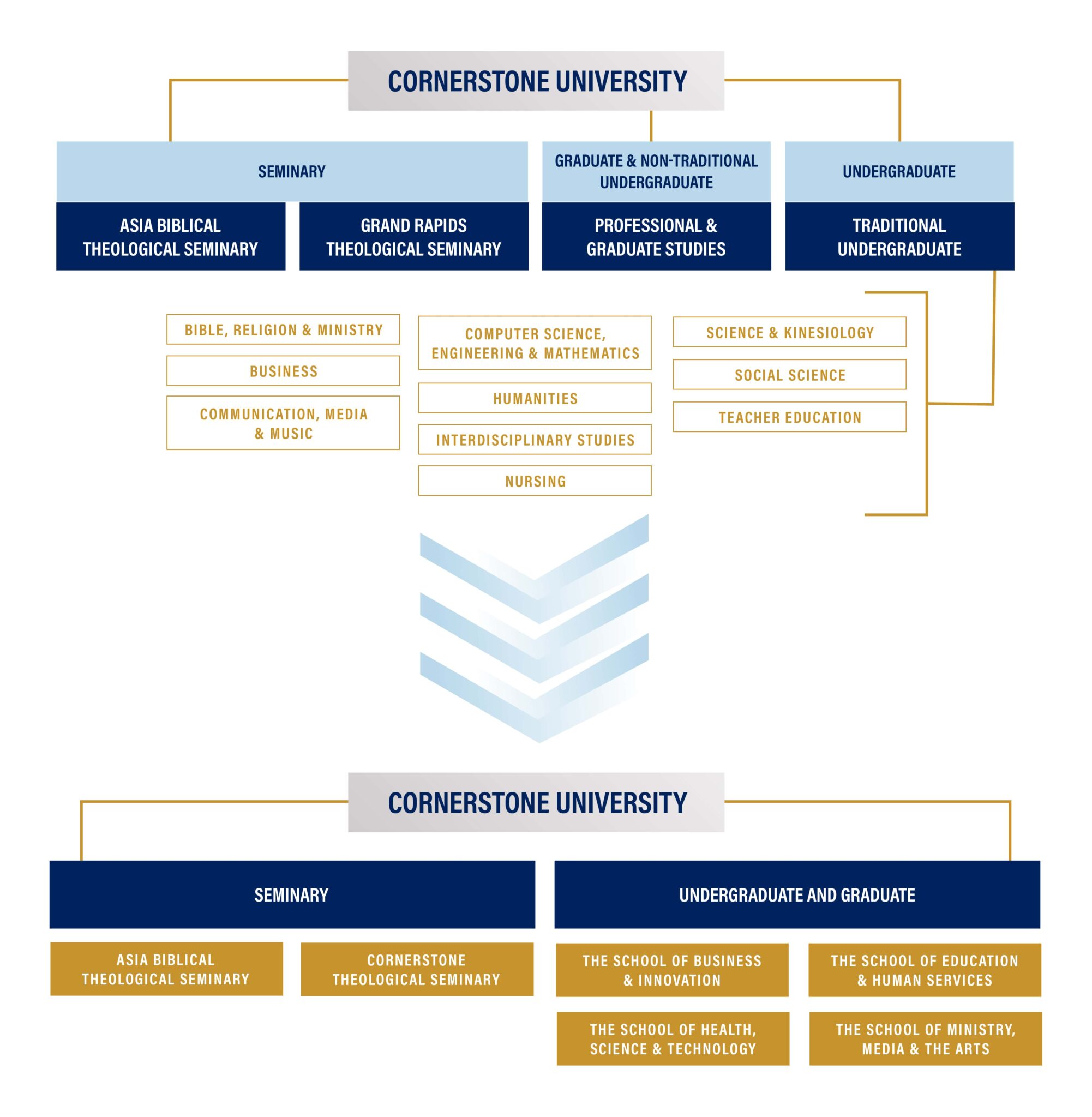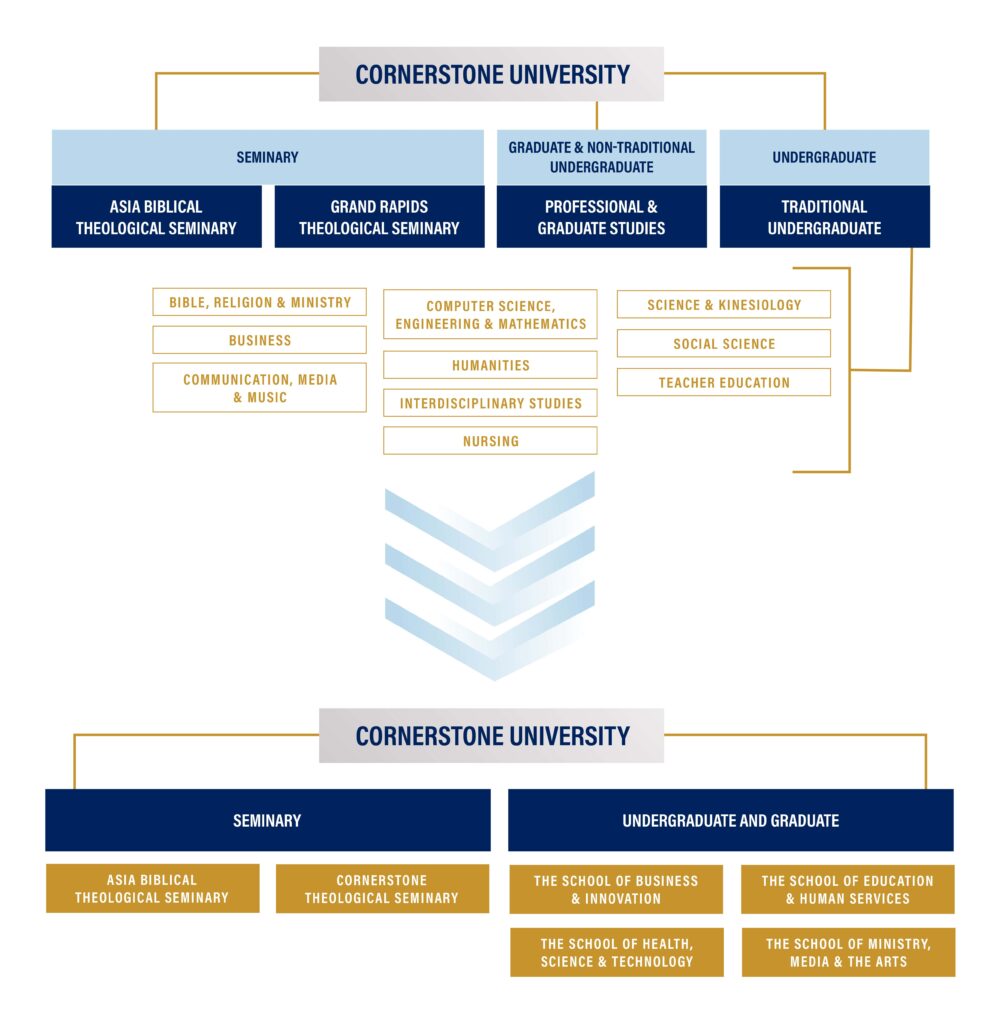 Want to Learn More About CU?
Connect with CU