Cornerstone Students Dive Deep Into Austrian Economics at Mises University

When school dismisses for the summer, most college students return to summer jobs while finding time to hit the beach, spend time with friends or soak up the sun.
But for three Cornerstone University students, their summer looked a little different. They traveled to the Mises Institute in Auburn, Ala., to listen to 35 lectures on economics—in one week.
In July 2021, John Layman (B.S. '23), Maya Bourque (B.S. '21) and Alex Kanstantsinau (B.S. '21) attended Mises University on the campus of the Mises Institute. They were joined by Professor Jeff Degner, assistant professor of economics at Cornerstone. Degner is a research fellow with the Mises Institute.
"My fellowship with the institute was an opportunity for me to get feedback on my dissertation, which is about how inflation redistributes wealth in society," said Degner. He is pursuing his Ph.D. in economic science from the University of Angers and has been connected with the Mises Institute for over 10 years.
The institute, however, provides resources for those other than doctoral students. Mises University gives undergraduate students the opportunity to dive deeper into the study of Austrian economics, a topic that is rarely discussed in undergraduate economic programs.
"Two leading Austrian economists, Ludwig von Mises and Friedrich Hayek, were never mentioned in my undergraduate studies," noted Degner. "When I did more of my own research, I realized the compatibility between Austrian economics and what Scripture says about human nature."
His passion for Austrian economics is evident in the classroom, according to his students. Layman, a junior studying finance and economics, became interested in learning more after taking one of Degner's economics courses. When Degner brought up Mises University in class, Layman knew he wanted to attend.
"Taking Professor Degner's macroeconomics course introduced me to Austrian economics for the first time," Layman said. "As a finance major, I like to know what's going on in the world around me and how outside effects could positively or negatively impact my goal to own a business. The Austrian school of economics has shown me different pathways to explore that."
Cornerstone had three students accepted into Mises University in 2021—more than any other university that applied. The cost is free to attend, thanks to the institute's donors; but there is a rigorous application process.
Dr. Gerson Moreno-Riaño, Cornerstone's president, expressed his appreciation for Degner, his students and their dedication to learning in innovative ways.
"By attending this conference," said Dr. Moreno-Riaño, "these students are demonstrating what it means to not only be academically focused, but also what it means to be a disciple of Christ in unique contexts, all while growing into their calling as citizens and participants in the global economy."
The students joined over 30 lectures during the course of a week, including those given by faculty at the Mises Institute and special guests like journalist Tho Bishop, commentator Tom Woods and Judge Andrew Napolitano.
"The institute offers a healthy environment for legitimate academic debate," said Degner. "There are students there who are Christians in the Reformed and Roman Catholic traditions, but it's not a faith-based institution. We also had conversations with atheists. In that environment, we're all willing to discuss issues in a respectful way."
Maya Bourque, a senior studying finance at Cornerstone and currently an intern for Action Accounting in Clearwater, Fla., said that adding to her network was also a valuable part of her experience at Mises University.
"It was an amazing opportunity to network as well as learn from the best in the field of Austrian economics," Bourque said.
Alex Kanstantsinau, also a senior, appreciated the diversity of thought at Mises University.
"Mises U promotes diversity," he said, "and a lot of people I met weren't studying business or economics but things like pre-med, accounting or political science."
All three students agreed that it was a great opportunity for networking and hearing from experts and that their experience would propel them in their future careers.
"Since our European peers are more influenced by Austrian economics, there are more opportunities for me to study abroad," Layman said. He said he is also considering the graduate programs available at the Mises Institute.
Professor Degner expressed his own pride in the students who were able to attend over the summer.
"It's a joy to put our students forward as candidates for these kinds of events," he said. "It's my hope as a professor that students find an intellectual pursuit where they intentionally pursue Christ, and the Austrian school of thought provides that path. Our mission at Cornerstone is to have an influence for Christ in the world, and Mises University is an open door for us to have influence."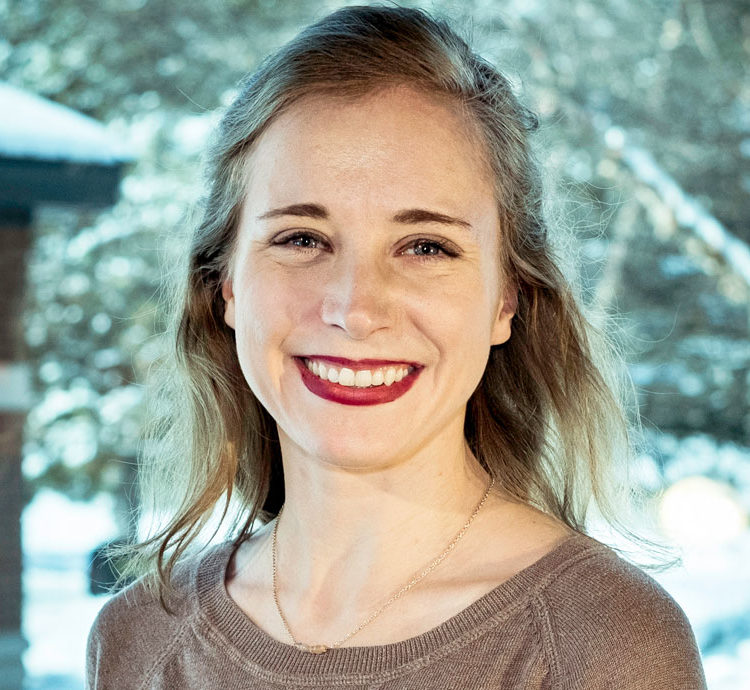 Audrey Wierenga
Audrey Wierenga (B.A. '18) is the copywriter for Cornerstone's Marketing & Communications Office. She graduated from Cornerstone in 2018 with a degree in broadcast communication. Audrey also serves on the Young Alumni Council.
In her spare time, Audrey enjoys working on her own full-length work of fiction, co-hosting a podcast about the Academy Awards and participating in local theatre productions.
Want to Learn More About CU?
Connect With CU