Ron Blue at Cornerstone University Fosters Financial Understanding in Students

Student loans. Textbooks. Groceries. Afternoon coffee. When students go to college for the first time, they accept responsibility for their purchases more than ever before. As expenses add up, they may find themselves unprepared to manage them. They're confronted with new financial realities and the wise will desire a biblical approach and practical tools to help shape their understanding.
This is the main reason why Cornerstone University established the Ron Blue Center, a financial literacy resource on campus for all CU students. In fall 2020, Cornerstone hired Elizabeth Maring as its director. Maring has an extensive background in financial law, biblical fiscal literacy and teaching money management to students. Maring is thrilled to lead a team of mentors who provide financial coaching to first-time college students and graduate students alike.
Maring has promoted biblical financial literacy through various ministries in her career, and she has also represented banks and lending institutions as an attorney. She understands both the sacred and secular aspects of managing finances. And as a mother of college graduates herself, she understands the strain and uncertainty that college expenses can bring.
"Financial literacy has an impact on the cost of Christian higher education for families who are trying to send students to college, as well as on the long term impact of being a good financial steward beginning in your 20s," Maring said.
While a majority of adults in the United States believe that finance should be taught in high school, only 21 states mandate it, according to a CNBC report. And according to the Financial Industry Regulatory Authority, only about 34% of Americans could answer four of five basic financial literacy questions. Maring believes that universities like Cornerstone could spearhead a change in these numbers.
The Ron Blue Center—located in Cornerstone's Verna Miller Center for Student Success—provides financial literacy resources of all kinds, including presentations in classrooms and student clubs. Maring has established the center's presence in Academic Foundations, a required class for all first-year undergraduate students. Recently, she and her team launched Dollars and Donuts, a monthly hour-long seminar on different aspects of financial literacy.
"What we found is that this topic is not top of mind for most college students," Maring noted. "They have so many other things crowding their attention. We have to give them reasons why it should matter to them."
The aspect that Maring is most excited about is the peer coaching program designed for CU students to talk one-on-one with fellow students about how they manage their money. Maring currently employs three junior finance majors who went through rigorous training in financial advising and unique professional development opportunities with practicing financial advisers. By assisting their fellow students in financial matters, they also gain resume-ready experience.
"The Ron Blue Center is a shining example of how transformation occurs every day on Cornerstone's campus," said Dr. Gerson Moreno-Riaño, president of Cornerstone. "Elizabeth and her team are developing an incredible peer advising program that encourages students to grow as stewards of their finances and resources. We are mandated as Christ followers to entrust all of our earthly goods to the LORD, and the Ron Blue Center provides an avenue for students to understand what that truly means."
Requesting an appointment with a coach is simple. Students simply fill out an online form detailing what they need help with, and a coach will contact them as soon as possible. These confidential services are free to students due to the support of generous donors.
Not only are students poured into by coaches, but the coaches are given resources to learn and develop into their future careers. They go through 40 to 50 hours of rigorous training using curriculum from the Ron Blue Institute. In February, they attended the Kingdom Advisors Conference in Orlando, Fla., a premier financial conference that equipped them with tools and tactics to grow in their calling.
Maring has a goal to continue to develop programs on campus for Cornerstone students as well as extend the curriculum and programming to high schools. It is imperative, Maring said, for students to develop these skills and competencies while they're still in school—and for Christians of all ages to have a better understanding of their finances.
"The fact that Scripture has more verses that address money management than prayer is a mandate for every Christian to become the best steward of their material possessions as they can be," Maring said. "That's the thing that fires me up—because I know that someone is going to be saved because we have been good stewards with our money, our possessions and our time."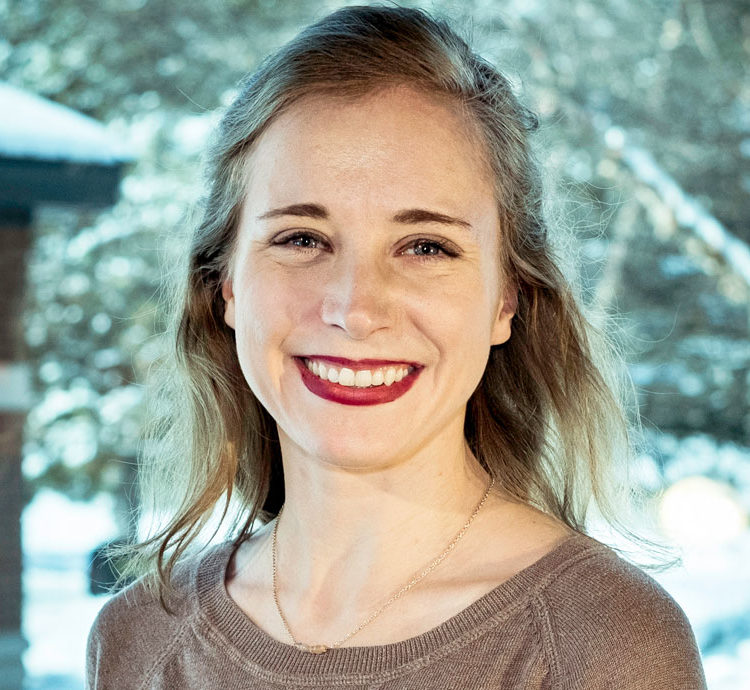 Audrey DeBoer
Audrey DeBoer (B.A. '18) is the copywriter for Cornerstone's Marketing & Communications Office. She graduated from Cornerstone in 2018 with a degree in broadcast communication. Audrey also serves on the Young Alumni Council.
In her spare time, Audrey enjoys working on her own full-length work of fiction, co-hosting a podcast about the Academy Awards and participating in local theatre productions.
Want to Learn More About CU?
Connect With CU