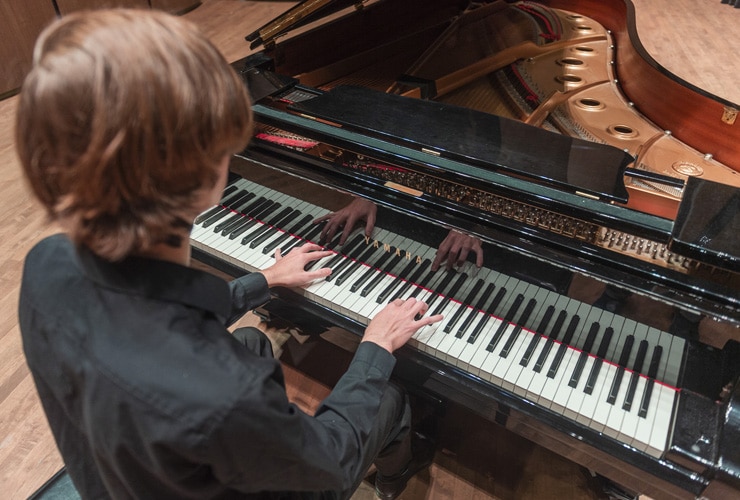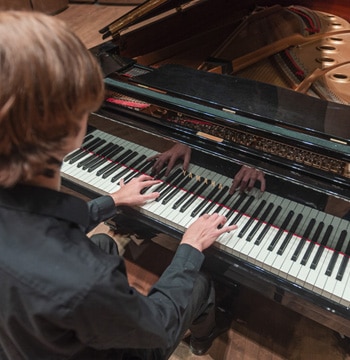 Undergraduate Artist Series

Grow Your Knowledge
and Understanding of Music
Music Matters
Artist Series 2021-22
Music is more than notes and lyrics. Music enriches the heart and soul. For the Music Matters Artist Series, Cornerstone University invites accomplished artists and music professionals to perform and present lectures about relevant music-related topics. These artists draw from real-life experiences and from God's Word as they share about topics like music performance, education, business and more.
September 2021 | "Being an Instrument in the Hand of God" With John Kasica
When the Egyptians drowned in the Red Sea, Miriam celebrated with a tambourine.
Date: Sept. 22, 2021
Time: 12:15-1:15 p.m.
Location: Matthews Performing Arts Center
About John Kasica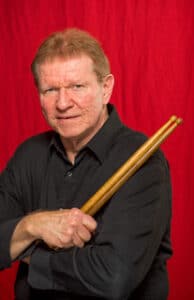 John Kasica joined the St. Louis Symphony percussion section in 1971 and performed under five music directors—Susskind, Semkov, Slatkin, Vonk and David Robertson. John has had the honor of being a part of the seven Grammy Awards won by the Orchestra. A native of Clifton, NJ, John received his Bachelor of Music from the Juilliard School of Music.
October 2021 | "Through Time: Trumpet Repertoire from the Baroque to Modern Day" With Matthew Dueppen
This lecture and recital will be a historical journey through trumpet literature. The focus will be on the versatility of the instrument and its evolution throughout history into its current form. On top of the historical context of the repertoire, each piece will also be performed.
Date: Oct. 27, 2021
Time: 12:15-1:15 p.m.
Location: Matthews Performing Arts Center
About Matthew Dueppen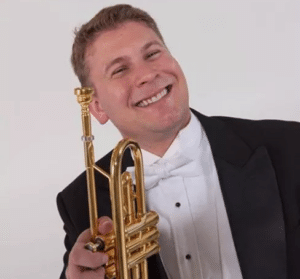 Dr. Matthew Dueppen is an Adjunct Professor of Music at Cornerstone University. He directs the CU Brass Ensemble and the Contemporary Jazz Ensemble and teaches Applied Brass Lessons, Music History and Music Education courses. He graduated from California State University, Northridge (B.A. in music) in 2008, earned his master's in music education from Lamar University in 2017 and completed his doctorate in trumpet performance from Florida State University in spring 2021.
As a performer, Dr. Dueppen is a Summit Records recording artist and the assistant director of Tim Zimmerman and the King's Brass, a Christian brass ensemble. The ensemble travels internationally and nationally throughout its 19-week season, performing over 150 concerts each year. They have recorded 18 albums. Dr. Dueppen is featured as both a lead trumpet and soloist on their most recent album, "Christmas Joy!," and also on their recording of "Victory in Jesus" (2021).
Along with his busy touring schedule, Dr. Dueppen is an active soloist, including appearances in the 2017 Reno Jazz Festival, the National Christian Choir (2020) and several performances of "The Trumpet Shall Sound" from Handel's Messiah. He has presented lectures and recitals at several universities, including The University of Arizona, Florida State University and Lamar University. Dr. Dueppen is an active contributor to the International Trumpet Guild Journal, including a peer-reviewed article on Clifford Brown's solo transcriptions and several music. In April 2021, he published his doctoral treatise, "The Benefits of Nutritional Supplementation for Building the Muscles of the Trumpet Embouchure," through ProQuest publishing.
Dr. Dueppen's primary research interests include early Baroque trumpet, jazz history/analysis and the health and wellness of brass players. In his brass pedagogy, he is adamant about pursuing an easier way to teach and play the instrument with reduced stressors and the prevention of resultant injuries from brass playing.
November 2021 | "Home and Away" With Hannah Karel
Soprano Hannah Karel presents a vocal recital which explores the theme of home; the need to leave home; and the joy and peace of return.
Date: Nov. 10, 2021
Time: 12:15-1:15 p.m.
Location: Cornerstone University
About Hannah Karel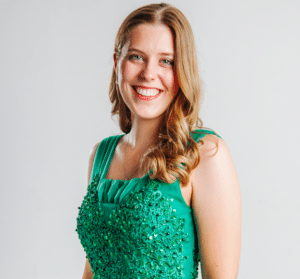 Praised as an "artistically-sensitive" singer with a "beautiful light lyric voice with an interesting color," Hannah Karel is an avid performer of opera, art song, and sacred music.
Ms. Karel graduated from Eastern Michigan University in May of 2021 with a Master's in Music Performance. In March 2020, she was awarded second place in the Graduate Performance Competition. During her time at Eastern, Ms. Karel also worked as assistant director of Opera Workshop, devising choreography and staging, leading music rehearsals, and writing the script for a student-derived show. Her recent performances include the role of Goldie in John Davie's Goldie B. Locks and the Three Singing Bears and a soloist in the EMU Choir's Candlelight Concert. Her performance of Alice in Momento Musica (a student-derived production) was cancelled due to COVID-19 restrictions.
A native of Hudsonville, Michigan, Ms. Karel received her B.A. in Music from Hope College, where she performed partial roles of Countess (The Marriage of Figaro) and Pamina (The Magic Flute) in the opera scenes program. In 2018 she performed as one of the winners of the Concerto Aria Competition. Later that summer, she was awarded the Sakiko Kanamori Prize, which she utilized to attend the Red River Lyric Opera Festival. While attending RRLO, she performed the role of 1st Alms Sister in Suor Angelica and covered the role of Hebe in H.M.S. Pinafore.
Through a semester in Budapest, Hungary, Ms. Karel gained cross-cultural experience and an interest in studying the works of lesser-known composers from Central and Eastern Europe. This opportunity allowed her to study humanities at Karolí Gaspar University, work as a volunteer English teacher at Kalunba (a mission dedicated to assisting refugee and migrant families in Hungary), and perform as a chorus member for Esö Theatrical's production of Sweeney Todd.
Ms. Karel is passionate about music's intersection with literature, religion, philosophy, art, history, and culture. Pursuing this passion in research, her paper "Long Ago and Far Away: Exoticism of Fantasy Music" was featured in Eastern Michigan University's virtual 2020 Graduate Research Conference. She believes that a musical performance is best when informed by many perspectives and disciplines, and this is reflected in her teaching philosophy and practice.
February 2022 | "Music from Around the World for Flute and Percussion" With John & Paula Kasica
A celebration of flute and percussion from different cultures.
Date: Feb. 2, 2022
Time: 12:15-1:15 p.m.
Location: Cornerstone University
About John & Paula Kasica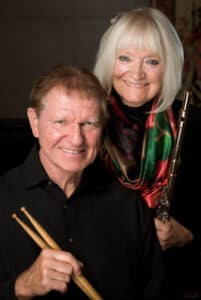 John Kasica is a native of Clifton, New Jersey. John received his Diploma of Music from the Juilliard School. Since 1971 he has been a member of the percussion section of the Grammy award-winning Saint Louis Symphony, recording over 110 albums, winning five Grammy Awards, performing three Far East tours, performing 80 times at Carnegie Hall. John was the Acting Principal Percussionist from 2002-08.
As a chamber music soloist, John has appeared with the Music Aeterna in New York City, Suzuki & Friends in Indianapolis, Da Camera in Houston, and as percussionist with the Summit Brass.
John has made numerous appearances as a soloist with orchestra. He presented the American premiere of two major marimba concertos, the Tilo Medic Concerto with the North Carolina Symphony in 1983 and the Minoru Miki Concerto with the Saint Louis Symphony on their 1986 tour of the Far East, playing at NHK Hall in Tokyo, Japan.
As a teacher and clinician he has served on the faculty of UMSL, Webster University, Mo Baptist University and Maryville University.
As a clinician nationally, John has given Masterclasses at the Juilliard School, Eastman School, New England Conservatory, Mannes School of Music, Rice University, and many more.
Since 1997 John has been the Principal Percussionist at the Masterworks Festival. Together, John and Paula have been guest teachers at the Living Light School of Worship in Kenosha, WI since its inception.
Paula Kasica grew up in north central Illinois. She received her Bachelor of Music from the St. Louis Conservatory of Music. Her teachers have included Jacob Berg, Julius Baker and Gerald Carey. Paula was the top prizewinner at the Julius Baker New York Masterclass in 1978.
Paula has appeared as soloist with several symphonies and performed throughout the area in many capacities. She has played with the Saint Louis Symphony and was a member of the Equinox Chamber Players. She has performed with Opera Theatre of St. Louis, the Aspen Music Festival, the Grand Teton Music Festival, the Fox Theatre Orchestra, and Principal flute with the Webster Symphony and the Saint Louis Philharmonic, the Ballet Orchestra of Saint Louis and the "Bach at the Seminary" Series.
Ms. Kasica has been on the faculty of the Masterworks Festival and Christian Performing Arts Fellowship since 1997. Paula has performed at the International Chinese Music Festival Changsha and Zhengzhou, China for 3 years giving Masterclasses and playing in the orchestras. In 2015 she was a soloist with the orchestra there.
Paula was also the Flute Professor at Webster University for 23 years. She has recorded with Hosanna Music, New Earth Productions, and Restoration Arts. She most recently recorded an improvisatory worship CD called Breath of God which is being distributed by Integrity Europe.
Paula, along with her husband John, a percussionist with the Saint Louis Symphony from 1971-2017, perform around the country as WINDFIRE: Flute & Percussion Spectacular. They have also traveled to Brazil and Great Britain to perform. In 2006 they won the National Flute Association Chamber Music Competition. They have been married for 50 years!
February 2022 | "Music Advocacy: Achieving Musical Goals Through Community" With Kayla Cordell
Kayla Cordell will present practical ways to engage your community once you start your musical career. The lecture will cover the topics including scientific support for music participation; communication strategies to positively engage your community; music advocacy success stories; and grant writing and fundraising.
Date: Feb. 16, 2022
Time: 12:15-1:15 p.m.
Location: Matthews Performing Arts Center
About Kayla Cordell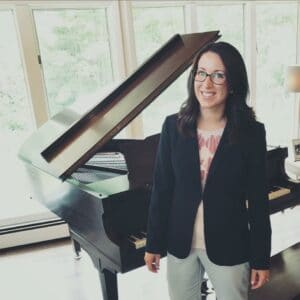 Kayla Cordell has been part of the Cornerstone University music faculty since 2018. She is the director of the Cornerstone University Symphonic Winds and instructor for various music education and music conducting courses. She is also an adjunct music faculty member at Muskegon Community College.
In 2006, Cordell graduated with a Bachelor of Music degree from Cornerstone University. Her first directorship was in White Cloud, Mich., where she taught 6th to12th grade band and choir. In 2009, she received the Newaygo County Outstanding High School Educator award sponsored by the Fremont Community Foundation. Cordell was also presented with the 2009 Outstanding Potential Award from the American School Band Directors Association (ASBDA) for early career accomplishments. During her four years at White Cloud, she wrote grants amounting to over $30,000 to benefit the White Cloud Band Program.
In 2010, Cordell became the director of the Sparta High School Band in Sparta, Michigan. During her time in Sparta, her bands received Division I ratings at both District and State MSBOA festivals. The teaching position included directing the 100-member marching band, concert band, wind ensemble, jazz band, middle school bands and various choirs. Her bands performed in Chicago, Ill., and Orlando, Fla. Cordell also accompanied several of her band students on a European tour as a staff member for the Michigan Ambassadors of Music program. In 2012, Cordell graduated from the American Band College of Sam Houston State University with a Master of Music degree, completing an emphasis in instrumental conducting.
Cordell has held various leadership positions in the Michigan School Band and Orchestra system. She has hosted All-State auditions, hosted and organized the District 7 MS Honors Band, organized the District 7 Brian Balmages commission project and has spent time on the MSBOA Festival Improvement Committee.
In 2019, Cordell organized Cornerstone University's first High School Honor Band and gave instrumental clinics in various private and public high schools. In 2020, Cordell became the first female guest conductor of the 62nd annual Tri-County Honors Band, and she presented at the New Directions in Music Education Conference hosted by Michigan State University.
Admissions Office
Contact
P:

F:

616.222.1418
Hours
MON - FRI: 8 a.m. - 5 p.m.
SAT & SUN: Closed
Want to Learn More About CU?
Connect With CU