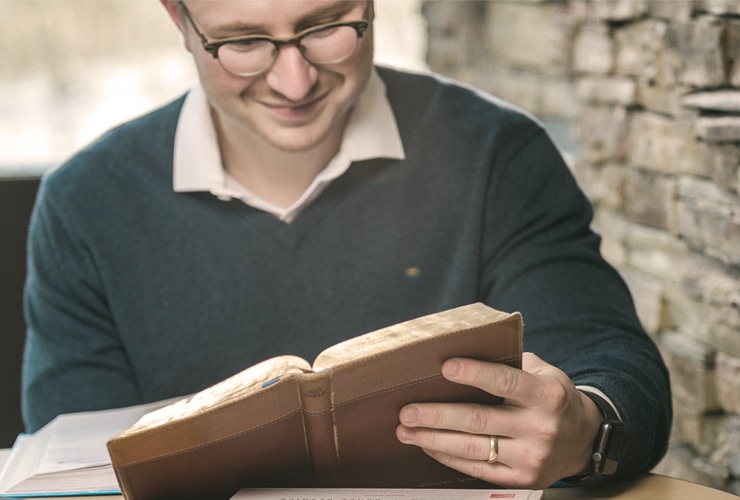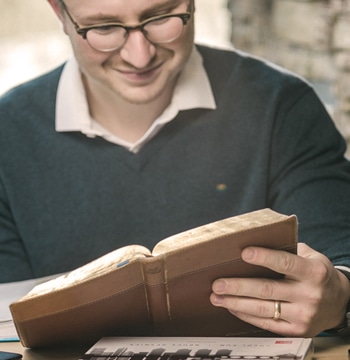 M.A. in Biblical Studies
PROGRAM START DATES
Classes start on Jan. 16 and Mar. 13, 2024
Credit Hours
36 with up to 66% of credits transferable


Accredited by the Higher Learning Commission (HLC).
Broaden Your Biblical Understanding and Ministry with an M.A. in Biblical Studies Degree
Immerse yourself in a comprehensive study of the Bible and Christian theology to help others better understand God's story and the gospel with a Master of Arts in Biblical studies degree. An ATS accredited theology degree equips you for ministry, nonprofit, and professional roles, including pastoral leadership, teaching, missions, church administration. Or prepare for various ministry support roles as teachers, disciplers, counselors, and spiritual coaches. Learn to effectively communicate Biblical truths, teach and lead congregations, and engage in the spiritual formation of others for God's glory. Whether you are called to formal church leadership or wish to expand your biblical-theological framework as a Christ-follower in any profession, an accredited degree provides you the Biblical depth you need to grow spiritually and professionally and lead others to do the same.
You may choose to study online or on campus with Cornerstone Theological Seminary's theology master's degree which can be completed in two years or less. Led by Biblically faithful faculty scholars and theologians who are currently active in Christian ministry, our 36-credit hour M.A. in Biblical studies online degree is designed to equip you for leadership and growth, sending you out to fulfill your ministry calling. You will:
Broaden your Biblical theology capabilities with expanded skills in Biblical hermeneutics, Old and New Testament foundations, systematic theology, and Biblical interpretation alongside practical Christian ministry applications.
Learn from faculty scholars and theologians who love God and Scripture deeply, are active in real-world ministry, and invested in sending you out to fulfill your calling.
Acquire a respected theology degree on your time, available 100% online or on campus. No GRE is required. Course credits build toward a future Master of Divinity (M.Div.) at Cornerstone Theological Seminary.
Generous scholarships and aid are available to allow you to study online while you minister or you may choose a more immersive on-campus experience.
One of the most affordable theology master's degrees available per credit hour and may be

completed in as little as two years

.



Why Choose An ATS Accredited Online Master's Degree from Cornerstone Theological Seminary?
Character, Competency, Compassion. For over 80 years, Cornerstone Theological Seminary has built an outstanding reputation for equipping pastors, Bible scholars, teachers, theologians, military chaplains and ministry leaders as servants of Christ's church to lead Christian communities with character, competency and compassion. The seminary unwaveringly embraces Biblical scripture which is central to Cornerstone University and the seminary's foundational statements and doctrinal confession, honoring God's vision of the world.
A decades-long partner and resource to churches and pastors, Cornerstone Theological Seminary is accredited by the respected Association of Theological Schools (ATS),* and Cornerstone University is accredited by the Higher Learning Commission (HLC). Cornerstone offers over 75 in-demand degrees that can enhance your theological training by preparing you for bold, influential ministry effectiveness, readying you for a future Master of Divinity or doctoral degree, or offering specializations that meet your specific ministry training needs.
Admission Requirements
A completed bachelor's degree with a minimum 2.7 GPA from an accredited institution
Official college and/or military transcripts
100%
Of M.A. in biblical studies graduates have obtained professional employment.
80%
Of M.A. in biblical studies graduates are vocationally placed in ministry-related positions.
60%
Of M.A. in biblical studies graduates have obtained licensure and/or ordination as a minister.
Core Courses
BBL-501 Biblical Hermeneutics
An introduction to the process of determining the original meaning and contemporary significance of biblical texts.
THE-501 Program Introduction Seminar
This course prepares students for the rigors of graduate scholarship by honing the skills of graduate research, reading and writing.
BBL-514 Old Testament Foundations
BBL-515 New Testament Foundations
MIN-500 Spiritual Formation
An investigation into the meaning of biblical Christianity and its relationship to faith and practice within contemporary cultural contexts. Special attention is given to the corporate dimensions of spirituality and spiritual formation.
THE-540 Systematic Theology I
This course introduces and practices a metanarrative for doing theology. The biblical narratives and propositions are heard in the context of the story that begins with creation, is centered in Jesus' first coming and reaches its culmination in the new heavens and earth.
THE-640 Systematic Theology II
This course continues our metanarrative theology by examining the Christian story of creation, fall, redemption and consummation, with special attention
Added: given to the nature and task of humanity, the distortion of the world through sin and the redemptive work and person of Jesus Christ and the Holy Spirit.
THE-641 Systematic Theology III
This course will examine in detail the doctrine of salvation (soteriology), the church (ecclesiology), the basic elements of pastoral theology (internal and external call to the ministry, ordination, ministry of the word and sacraments, church discipline and pastoral spiritual formation) and the four last things (death, judgment, heaven and hell).
Start your M.A. in Biblical studies online with Cornerstone Theological Seminary today!
Knowledgeable enrollment counselors are ready to guide you from application to graduation! A high-quality professional Christian theology degree is available to support your calling:
Courses are offered 100% online to fit your busy ministry life and can be completed in as little as two years. No GRE is required.
Transfer up to 66% of an eligible degree's credit hours. The online master's is designed for flexibility to be completed in as little as two years.
Scholarships and aid programs are generous.
Tuition is priced for affordability compared to other private nonprofit universities and seminaries, ensuring a degree that can fit your budget.
Experience one-on-one seminary faculty support from current theologians, pastors and real-world Bible scholars offering relevant skills you can apply immediately.
Free student support resources are available—including writing, pastoral counseling services and more—to provide comprehensive support!
Cornerstone Will Help You at Every Step!
An enrollment counselor is ready to help you start your degree journey now. Cornerstone offers:
Accelerated admissions to get you started sooner.
No GRE required.
Competitive tuition rates—some of the most affordable in the region.
Generous credit transfers—up to 66% of total degree hours in transfer credits possible.
Financial aid advisers available to explore funding opportunities for this valuable investment.
Start your application for a bold, influential ministry with your M.A. in Biblical studies online or on campus degree from Cornerstone Theological Seminary!
Faculty
Our faculty at Cornerstone Theological Seminary are dedicated to bringing a holistic education whether you are learning in the classroom or online.
Related Programs
Take a look at some other graduate theological degrees that we offer at CTS. They are all available both online and on-campus.
Admissions Office
Hours
MON - FRI: 8 a.m. - 5. p.m.
SAT & SUN: Closed
Want to Learn More About CTS?
Connect with CTS