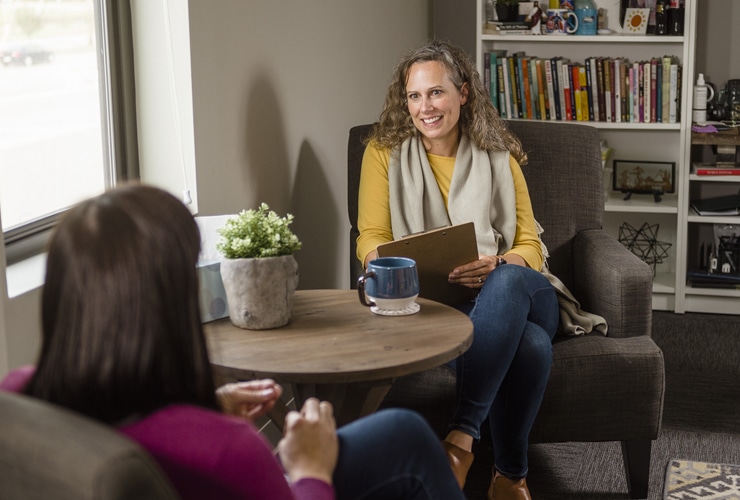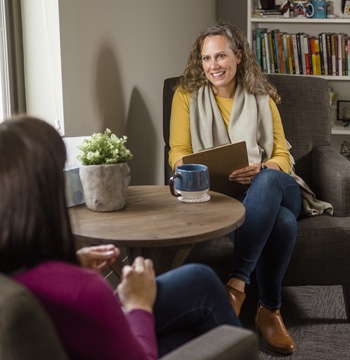 M.A. in Clinical
Mental Health Counseling
PROGRAM START DATES
Classes start on Jan. 16, 2024
Credit Hours
60 with up to 12 hours in transfer credits possible


Cornerstone University and the M.A. in Clinical Mental Health Counseling degree are accredited by the Higher Learning Commission (HLC) and is CACREP aligned. Our program exceeds CACREP curriculum standards and allows for tailored plans to prepare students for state licensure.
Influence Health and Wellness with our M.A. in Clinical Mental Health Counseling Degree
You can help restore hope, health and wellness in your community with a meaningful career in clinical counseling. A Master of Arts in clinical mental health counseling degree prepares you with the knowledge and skills needed to apply for state licensure. A fast-growing career field, Cornerstone University counseling master's graduates serve with excellence in community mental health centers and agencies, private practice working with individuals and families, substance abuse facilities, employee assistance programs, churches, nonprofit ministries, and more.
Cornerstone's accredited M.A. in clinical mental health counseling degree course work is CACREP-aligned and offered 100% online to fit your need for quality and flexibility. With a focus on evidence-based practice, skill and faith principles, pursue a clinical counseling degree that addresses mental, physical and spiritual health holistically to help restore lives through clinically-required skills and faith foundations. Learn:
Counseling theories and techniques, clinical assessments, addictions and trauma interventions, ethical mental and emotional disorder treatments, research and technology in counseling and marriage, family and group techniques.

Concentrations in Marriage and Family Therapy, Addictions Counseling and/or Trauma Counseling allow you to choose pathways that fit your interests.

Dual Licensure Track to become a Licensed Professional Counselor (LPC) and Licensed Marriage and Family Therapist (MFT). One of the only schools in the country to offer such a degree.

Faculty are practitioners, scholars and researchers in the field of counseling who offer one-on-one student interaction and integration of Christian theological principles throughout the curriculum and student experience.

*Practicum and internship experiences will facilitate hands-on counseling with individuals, groups and families.
No GRE is required, and you can transfer up to 12 approved credit hours. 
*Three-day in-person residency required twice over the duration of the degree program. Students are expected to complete the first residency at the start of the program and the 2nd residency when scheduled to take the COU-610 Counseling Techniques course.
Why Choose An Affordable, Accredited Counseling Master's Degree from Cornerstone University?
Academic quality, experienced faculty and respected accreditations are essential for degree marketability, licensure requirements and personal development to propel your life forward as a professional counselor. Cornerstone University and the M.A. in clinical mental health counseling degree are accredited by the Higher Learning Commission (HLC) and the curriculum is CACREP-aligned to meet state licensure requirements for the state of Michigan and can be tailored for other state licensing requirements. The university offers over 75 in-demand degrees with decades of experience delivering high quality traditional and online education.
For over 80 years, Cornerstone's mission and commitment is to provide the most excellent academic education, grounded in Christian scripture, taught by current industry professionals who are experienced practitioners. Preparing bold, Christ-centered, influential leaders in counseling and other important fields includes our commitment to an outstanding, enriching student experience from start to degree completion.
Start your journey as a clinical counselor today to help restore lives in your community:
Enrollment counselors are available to help you apply, schedule a program interview, and receive an admissions decision.

One of the most affordable master's degrees per credit hour in private, nonprofit higher education.

Free student support resources, including writing, math and more.

Internships possible at The Well, Cornerstone's dedicated mental health counseling center on campus to serve students, reflecting a deep commitment to spiritually grounded mental health.

A team of knowledgeable academic advisors to guide you from deposit to graduation!
Admission Requirements
Three recommendations
Transcripts
Minimum 2.7 GPA from accredited undergraduate school
Interview with counseling faculty
Students will need to maintain 3.0 GPA while in program
83%
Of Master of Arts in clinical mental health counseling alumni have obtained their limited license or full license as a professional counselor (LLPC or LPC).
7:1
Student-to-faculty ratio.
Experience Hands-on Supervised Fieldwork
Gain important supervised field experience that allows you to apply foundational skills in a broad range of real-world applications. The program includes 100 practicum hours (40% direct client contact) and 600 clinical internship hours (40% direct client contact), and two on-campus residencies. Enhance your resume and networking opportunities in the field with the guided support you need as you complete your clinical requirements. For those outside of our area, choose an approved site that is closer to your home.
Licensure and Continued
Professional Development
You must become a Licensed Professional Counselor to work in any facility as a professional counselor within the state of Michigan. We have designed the M.A. in clinical mental health counseling degree program to meet the graduate school licensure requirements in Michigan. Upon graduation, you will qualify to apply for your Limited License as a Professional Counselor (LLPC).
Michigan Counseling Licensure
The M.A. in clinical mental health counseling program at Cornerstone University is designed to meet the educational requirements for the state of Michigan for the limited license professional counselor credential (LLPC). In Michigan, the limited license is known as a provisional licensure. Four steps need to be completed before applicants can progress from the "limited" license (LLPC) to the "full" license (LPC). These requirements are completed after students earn their M.A. in clinical mental health counseling degree. They are as follows:
Complete 3,000 hours working as a counselor.
Attend supervision for at least 100 of those hours with a LPC who has completed the supervision requirements as outlined by the state of Michigan.
Pass the National Counselor Exam (NCE).
Allow no less than two years and no more than 10 years to pass before applying.
Please visit the Michigan Board of Counseling for more information regarding Michigan state licensure.
Out-of-State Counseling Licensure
If you are seeking to pursue licensure in other states, your CU faculty advisor will work with you to ensure you receive a tailored plan that meets your state's requirements. You can view licensure requirements by state here.
Networking
As you begin your degree program, we encourage you to consider getting involved in professional organizations for counseling professionals. These organizations offer professional development opportunities related to the field of counseling.
Comparison of Helping Professions: LPC, LMSW and LP
You might be curious about the differences between the LPC (licensed professional counselor), LMSW (licensed master social worker) and the LP (licensed psychologist). While each of these careers can have an outcome of doing the work of counseling, the identity of a clinical mental health counselor is unique and distinctive with a focus on development across the lifespan, wellness, holistic health and empowerment of clients.
Course List, Descriptions and Planning Guide
Request Information

Apply Now
Faculty
The core counseling faculty at Cornerstone University all have professional counseling and supervision experience, areas of clinical specialization and are engaged in research and scholarly activity. They value getting to know their students and act as faculty advisers to mentor and guide students throughout their educational journeys and on the path to a future career as a Licensed Professional Counselor.
The adjunct counseling faculty at Cornerstone University are practicing clinicians who offer their unique skill sets in the field of counseling.
Admissions Office
Hours
MON - FRI: 8 a.m. - 5. p.m.
SAT & SUN: Closed
Want to Learn More About CU?
Connect With CU