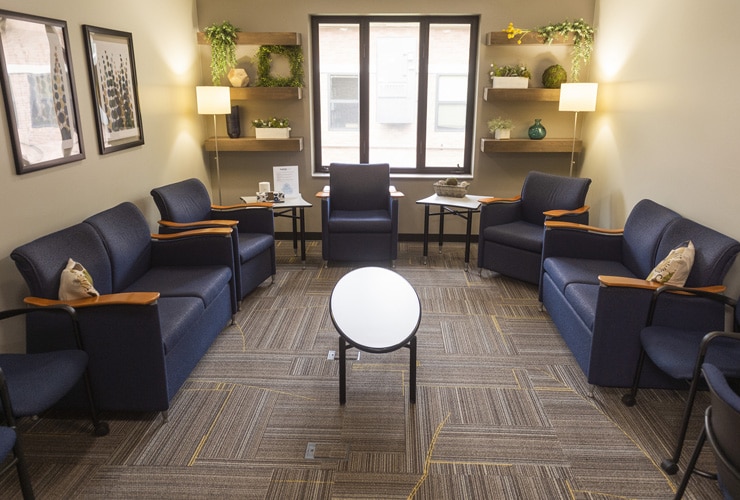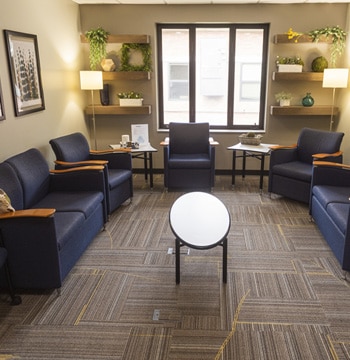 University Offices

We're Committed to
Listening to You
The Well
The Well exists to provide a place where Cornerstone University students can have safe, confidential conversations with counselors who are equipped to provide encouragement and help when life gets stressful, confusing or messy. Life can get overwhelming and what is important to you is important to us.
You may choose counseling to problem solve, make healthier choices, build upon your strengths, gain freedom from chronic struggles or realize peace in difficult situations. Specific concerns often include stress, depression, anxiety, relationship struggles, spiritual issues, sexual concerns and confusion, the loss of a loved one, traumatic events, self-harm, suicidal thoughts, drugs and alcohol, pornography, family problems and adjustments to college life—really, anything that might be causing someone to struggle or doubt.
Schedule an Appointment
The Well is located in the Health & Counseling Services wing of the Verna Miller Center for Student Success. Our offices are open 8:30 a.m. to 5 p.m. on Monday through Thursday and 8:30 a.m. to 4 p.m. on Friday. Counselors offer sessions 9 a.m. to 4:30 p.m. on Monday through Thursday. To make an appointment or for more information, call 616.977.5477 or email the.well@cornerstone.edu.
If the problem you are facing needs immediate attention, or someone you know is in danger, call Campus Safety at 616.949.5300 or dial 911. The Well does not provide emergency counseling services outside of our normal office hours.
Resources
At Cornerstone University, there are several ways The Well helps students untangle struggles they may be facing. First and foremost, our commitment is to listen well so that we accurately understand the problem. We offer student-focused services such as individual counseling, couples and premarital counseling, group counseling and referrals.
Jump To:
Services Offered
Frequently Asked Questions for Students
Frequently Asked Questions for Parents
Services Offered
Counseling and Consultation
The word "counseling" can be intimidating and prevent people from solving a problem. Sometimes it takes a conversation or two to find the answer. We are here to help you discover the best resolution for your need, whether it is helpful resources or walking through difficult issues together through counseling sessions.
Individual Counseling
Individual counseling offers a safe, confidential place to explore personal struggles and concerns. Counselors at The Well are good listeners and personal advocates who are gifted and trained in helping people sort out struggles and find lasting solutions. Counseling at The Well is a collaborative relationship. The counselor and the student work together to determine goals as well as the amount of meetings that will be most helpful.
Couples and Premarital Counseling
Whether students are struggling with serious dating conflicts, marriage or simply the normal difficulties of "getting serious" with someone, we're here to offer encouragement and guidance in a way that helps you become more mature and God-dependent in this area of life. Several of our counselors are married and are gifted in helping young couples think through the impact of personality, family of origin, spiritual development and gender differences.
Group Counseling
Oftentimes we are more able to find our way down a difficult path when we realize we are not alone. Students in particular often find the deepest forms of encouragement from other students. At the same time, openly sharing with other students has its risks and, at times, can crash and burn. We offer peer-based groups under the guidance of a counselor who is trained in facilitating group discussions around difficult life issues.
Referrals
We are continually strengthening our relationships with resources in the greater Grand Rapids area who partner with us in addressing more difficult or long-term counseling and psychiatric needs.
Guest Lecturing
Our Counselors are often invited by CU faculty to provide lectures on a variety of topics.
Dorm Discussion Groups
Our counselors often work with resident assistants and resident directors to facilitate frank discussions on difficult topics like sexuality, anxiety, depression, interpersonal conflict, family struggles and others. This setting also provides CU students the opportunity to connect with our counselors in a less formal setting than one-on-one counseling.
Frequently Asked Questions for Students
Who is going to find out about my counseling sessions?
No one—unless our clients give us written permission to do so. The only exception to this are rare occasions when we believe that someone's life (whether the client's or someone else's) is in danger. Our confidentiality policies are in writing and are reviewed with every client at the beginning of the first session.
Is counseling only for weak people?
Unfortunately, the phrase "getting counseling" is viewed negatively. In reality, getting help on anything shows strength and the desire to do your best with your circumstances. We all need people in our lives who are safe listeners and wise helpers. Counseling is one form of getting that need met.
What if my problem seems trivial?
Simply put, if it's important to you, it's important to us. Learning to approach your difficulties with smaller things equips you when the larger ones come along.
How much do I have to share?
You are not forced to share anything. Our counselors will respect your choice to let us know what we can help you with, and when you do confide, we keep everything you've shared confidential. Not only do we have to protect your information by law, we understand the value of your trust.
What if my counseling isn't going well?
We make every effort to match our resources with your personal needs. Nevertheless, there are times when we are not a good "match" or not as helpful—if this is the case, please let us know. No one should ever feel pressured to act like counseling is going better than it really is. If we aren't being helpful, we want you to tell us so that we can figure out a better way to help you.
What if I am being forced to "get counseling"?
No one should be forced to change against their will. The atmosphere at The Well is non-judgmental and is based on personal integrity, that is, on every person's right and responsibility to make independent choices about their life. Regardless of what (or who) may lead a student to The Well, we strive to affirm and offer the personal freedom that every person deserves to choose their own path.
How long is counseling going to take?
We strive to make counseling seem more like a good conversation over coffee rather than a trip to the dentist. We are here to walk with you, not to "fix you." On the other hand, we realize that people want to make progress in counseling (especially since the conversations can be difficult or painful)! We will work with you to make sure your time here is productive and useful.
Practically speaking, counseling sessions are approximately 50 minutes—but plan on one hour including checking in and out. We are committed to beginning and ending the sessions promptly. The total number of sessions varies with each person.
How much does it cost?
We want to make counseling affordable for every student. If you have university-based Health Insurance (through First Agency), it will cover 12 counseling sessions per year at no cost. If you do not, then we offer a sliding fee scale which is based on the student's annual income. For most students, the sliding fee is between $1 and $3 per session. We do not bill private insurance.
Frequently Asked Questions for Parents
What should I do if I think my family member or friend needs counseling?
Family members and friends are often the first to notice when a student is struggling, and can be the encourager a student needs to seek help. You can assure them that they can go to The Well for a confidential conversation, where they will find a safe, awkward-free environment. The easiest way to help someone take next steps is to check out our front page and review the next steps for how to schedule an appointment.
Is the counseling biblically-based?
Yes, The Well recognizes the Bible as the source for understanding how to respond well to the struggles of life. Our guiding motto—Thirst, Drink, Live—is based on John 7:37-38: "Let anyone who is thirsty come to me and drink. Whoever believes in me, as Scripture has said, rivers of living water will flow from within them."
Yet sometimes people feel pressured by Christians to act, think and believe the "right way." That is not our approach. We respect every person's spiritual journey regardless of where it may be. We honor doubt and struggle and believe that God does as well.
If my family member or friend is getting counseling, can I find out how it's going?
We deeply appreciate the concern that friends and family often have for our clients; it can be a crucial form of help and encouragement. Nevertheless, we are legally and ethically mandated to keep client confidentiality, which prohibits even acknowledging whether or not a client has attended The Well. However, if our clients want us to talk to someone about their sessions they have the option of signing a document allowing us to do so.
Want to Learn More About CU?
Connect With CU