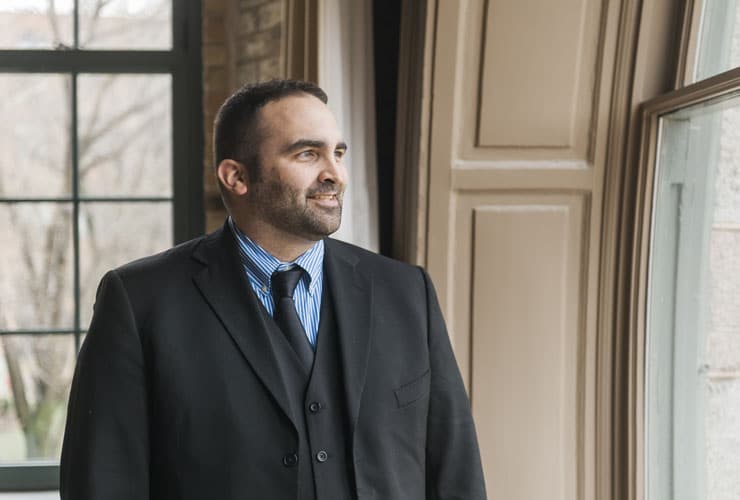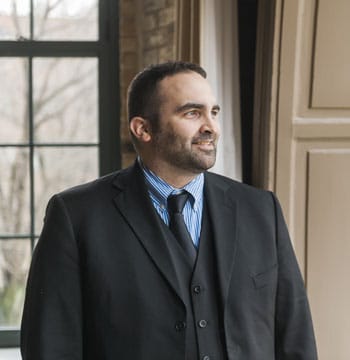 Ed.D. in Organizational Leadership & Development
Credit Hours
60 with up to 45 total degree hours in transfer credits possible


Accredited by the Higher Learning Commission (HLC).
Expand Your Career Influence with a Doctor of Education (Ed.D.) in Organizational Leadership & Development Online
If you are a professional seeking solutions to challenges for your business, nonprofit, education, government, health care or ministry organization, an Ed.D. in Organizational Leadership & Development can help you advance your career and your organization's effectiveness. Cornerstone University's online accredited Ed.D. helps you craft practical solutions to real-world problems by utilizing advanced skills in research, organizational behavior and data-driven decisions that can cultivate lasting transformation in your organization or industry.
Cornerstone's practitioner-based Ed.D. is uniquely designed to equip working professionals with proficiencies in organizational leadership and development within the context of a 21st-century, rapidly changing workplace ecosystem. Taught by experienced industry professionals, the program is grounded in a Christian worldview to inspire your professional and spiritual growth. You engage in an intentional learning community of fellow leaders as you collectively pursue your God-given abilities with creativity and insight. At Cornerstone, you:
Develop proficiency in: organizational behavior, leadership, human resource management, qualitative and quantitative research methods, problem-solving, data analysis, planning, assessment and improvement, governance, culture and change management, finance, marketing, and communication in brand management.
Expand your capabilities to: synthesize empirical and theoretical research to solve 21st-century organizational leadership issues, challenges, and problems and demonstrate intercultural competencies, integrating a Christian worldview throughout.
Courses are offered 100% online with three annual residencies to deepen your peer connections and enhance your learning and professional growth.
No GMAT is required, and five years of work experience is desired.
One of the most affordable private, nonprofit online business degrees in the country.
Scholarships and aid are available.
Why Choose An Ed.D. in Organizational Leadership & Development from Cornerstone University?
Choosing a practitioner-based Ed.D. over a Ph.D. is intentional. While both degrees advance your knowledge and credentials toward initiating success, the difference lies in what you hope to achieve. The Ed.D. is uniquely designed to equip working professionals across a broad range of industries and educational leadership roles. Graduates will blend research, theory, data, critical thinking and leadership to create solutions to real-world problems.
With over 80 years of experience in traditional and online higher education, Cornerstone University has prepared thousands of business and education professionals who serve in a wide range of industries with skill, character and distinction, leading in corporate, nonprofit, education, government and ministry roles. The Doctor of Education in Organizational Leadership & Development online degree is accredited by the respected Accreditation Council for Business Schools and Programs and the Higher Learning Commission (HLC).
Our mission is to prepare bold, Christ-centered, leaders who will create solutions for tomorrow's global organizational challenges through character, researched-based skill and applied insights. The Cornerstone Ed.D. difference offers:
Organizational leadership and business faculty experts with real-world experience who offer one-on-one student support and mentorship.
One of the most affordable advanced business degrees per credit hour in private, nonprofit higher education.
Networking through collaborative online learning environments and residencies.
A team of knowledgeable advisers to guide you from application to graduation!
Choose from over 75 in-demand degrees, certificates and concentrations to customize the learning you need to fit your career goals.
Our respected Ed.D. can help you advance in a current organization or transition to a new opportunity as an influential business leader. An enrollment counselor is ready to get you started!
Admission Requirements
To be considered for this program, applicants must submit the following admissions material.
Application – No application fee for 2024-25
Official graduate transcript from an accredited college/university (3.0 GPA or higher)
Professional experience – A minimum of five years of relevant professional experience in leadership, management, or a related field is required.
Statement of Intent (500-1,500 words) – Applicants should submit a well-crafted statement of intent that articulates their career goals, reasons for pursuing the Ed.D., and how the program aligns with their aspirations.
Resume or Curriculum Vitae (CV)
94%
Of alumni believe that their education prepared them for the demands of their careers.
100%
Of faculty members are professing believers of Jesus Christ.
What Degree Courses Will You Study?
EDL-900 Doctoral Studies Seminar
An orientation to the Ed.D. program and doctoral study expectations and requirements. Learners will focus on and enhance their library research and academic writing skills. Emphasis will be given to organizational behavior and development issues that lead to problem formation and solution development by synthesizing theory-based, practical research. Important and current leadership issues and management dilemmas will be emphasized so that learners can connect academic writing and research to problem-solving within organizations. Special emphasis will be given to finding potential issues within a student's vocational context that will lead to the doctoral program's culminating capstone project. The first residency requirement will occur and be met upon successful completion of this course.
EDL-901 Organizational Behavior, Theory and Leadership
An overview of seminal leadership concepts and theories with an emphasis on their applications within 21st century organizations. Special emphasis will be given to individual differences at work, motivation and the role of personality in leadership style, as well as the influence of work environment, teamwork and social behavior on decision making, communication and leadership effectiveness within organizations.
RES-905 Research Methods, Program Evaluation and Modes of Inquiry
A general survey course designed to develop key skills and core competencies within the classic tradition of research design while focusing on practical and emerging methods of inquiry, problem-solving and data analysis. This course will help learners define a specific research problem and generate questions that lead to collection, analysis and interpretation of data. The culminating assignment will be an initial research prospectus focused on the learner's organizational leadership and development capstone project.
EDL-902 Legal Issues, Policy Leadership and Ethics
An analysis of the legal aspects and issues of constitutional, statutory and case law concerning public and private organizations. Compliance issues stemming from a legal basis and case law along with public policy implications will be emphasized. Learners will comprehend the practical implications for organizational and institutional policy as they relate to and influence daily operations in addition to the role of specific ethical theories in legal and policy decision-making.
EDL-903 Leadership, Human Resources Management and Diversity
An examination of relevant employment law issues for leaders and organizations within the context of human resources leadership. Learners will examine the legal and regulatory aspects of HR and diversity in addition to how cognitive diversity within organizations improves decision-making and organizational performance. This course will also highlight theoretical, research-based and practical information related to employee and organizational development, staffing, recruitment, selection, training and other key features of human resources administration, management and leadership. A major emphasis in the course will be structuring the HR function as a strategic component of organizational leadership and development.
RES-910 Qualitative and Organizational Action Research
A focus on using classic qualitative research methods to address organizational problems. Along with narrative, phenomenological, case study, ethnographic and grounded theory research, this course will also emphasize program evaluation and action research strategies. Learners will understand what qualitative research choices are available to help inform organizational decision-making and problem solving. Specific emphasis will be given to conceptual understanding of the various qualitative techniques from a menu of choices so as to inform the culminating organizational leadership and development capstone.
EDL-904 Organizational Planning, Assessment and Quality Improvement
An examination of strategic thinking and planning to maximize organizational value, improve decision-making and enhance leadership. Learners will comprehend and be able to apply concepts and information related to program quality and assessment. The course will emphasize specific planning models and actionable decisions made by leadership to set and implement an intentional direction for organizations in a way that also recognizes the need for reactive, emergent planning strategies. The course will include current systems for ensuring quality and establishing accountability.
EDL-905 Organizational Governance and Strategy
An examination of the basic structural forms and functions of organizational governance with an emphasis on external and internal stakeholder constituent forces. Relationships including the tensions inherent between external stakeholders, senior leadership, structures of governance, standards of monitoring system performance, organizational culture and the board of directors are conceptualized using systems thinking. Multiple models of behavioral understanding provide a framework to observe, analyze, synthesize and take appropriate action regarding the functioning of different organizational systems. Emphasized topics include strategic governance systems such as governing and advisory board development and communication, as well as issues in recruiting, selecting and evaluating boards.
EDL-906 Organizational Finance and Resource Management
A study of leadership skills and competencies needed to manage financial issues within 21st century organizations. The course will focus on issues and practical financial strategies from a leadership perspective, not the daily financial or accounting formulas that inform these practices. Specific attention will be given to financial planning, budgeting, resource development and sources of financial support.
EDL-908 Organizational Culture and Change Management
An overview of change theories, concepts and models with a focus on understanding organizational and international culture and how proactive, deliberate strategies along with reactive, emergent strategies shape organizational functions and behavior. Learners in this course will comprehend how climate and culture influence structure, organization and behavior and how change can be understood and managed to produce sustainable competitive advantages for companies and organizations. The course will emphasize practical tools and strategies that can be implemented across organizations.
RES-915 Quantitative Research Design and Data Analysis
An exploration of practical statistical and data analysis choices within the framework of the respective research designs. Specific emphasis will be given to correlational, observational and descriptive survey designs, causal comparative (ex post facto) designs, and quasi-experimental and experimental methods of organizational research. This course will focus on choosing the appropriate research design and statistical analysis to match corresponding research problems. In addition, "Big Data" and data analytics will be discussed briefly. The third and final residency will occur during this course.
EDL-907 Organizational Marketing and Communication
An exploration of marketing and public relations as activities that create value for clients, customers and stakeholders. This course will examine competitive advantage, branding and market orientation in traditional marketing structures in addition to the opportunities and issues associated with social media. The course will also emphasize role judgment, emotions and choice play in consumer behavior with a focus on theory-informed research from behavioral economics that apply to individual and group decision-making along with practical marketing and communication strategies to increase an organization's viability in the marketplace.
RES-920 Project/Research Proposal
A course designed to help students create a specific, relevant and realistic plan for the organizational leadership and development capstone. Using the prospectus developed in RES-905 and information learned in RES-910 and RES-915, students will expand the initial research prospectus into a full proposal that will be carried out during the last year of the doctoral program.
RES-925 Organizational Leadership and Development Project
The final project in the doctoral curriculum is designed to address a practical, real-world organizational problem or leadership issue in an applied setting. Projects will be theory- and research-informed yet practical, and will be completed in consultation with a research project mentor, the student and a cooperating sponsor in the workplace or professional setting. The final project will focus on synthesizing knowledge, theory, research and practice in such a way to be of benefit in a professional or clinical setting.
Residency
The Ed.D. program incorporates three annual residencies that provide you the opportunity to engage beyond coursework to deepen your experience in community and connection with your peers. These three-day intensive sessions provide an opportunity for connection, enhanced learning and professional growth.
Comprehensive Exam
After passing EDL-908 and at the beginning of the third residency, you'll take the doctoral comprehensive exam. The exam incorporates two written practical application and synthesis components and demonstrates your critical thinking toward important issues in your industry as they relate to organizational leadership and development. It also allows you the opportunity to apply the curriculum you've encountered as you navigate and analyze your capstone project topic by using the language and evidence to present your project.
Passing this exam allows you to be considered officially "advanced to candidacy" as a doctoral candidate. The exam is evaluated in a two-person blind committee and marked as pass without reservation, pass with reservation or fail.
Faculty
Chart your pathway forward with the support and guidance of expert professionals. Faculty in the Ed.D. program represent diverse professional backgrounds and areas of specialization.
Related Programs
Our programs incorporate a range of opportunities to advance your career both at the master's and doctoral levels. Here are some other graduate pathways related to business.
Admissions Office
Hours
MON - FRI: 8 a.m. - 5. p.m.
SAT & SUN: Closed
Want to Learn More About CU?
Connect With CU