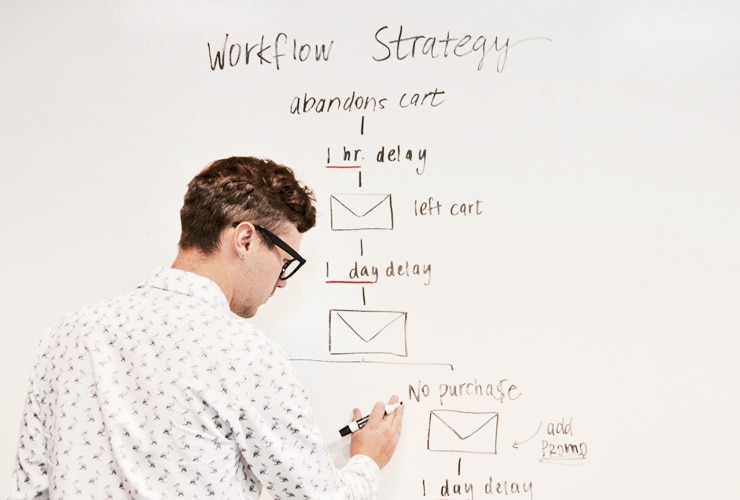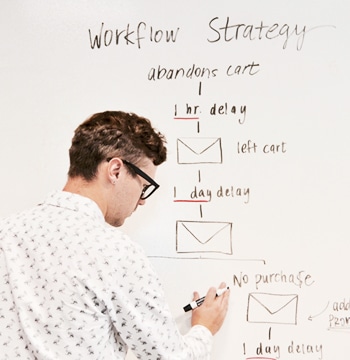 M.S. in Strategic Marketing

Craft Clear Strategies
Master of Science in Strategic Marketing
The Master of Science in strategic marketing at Cornerstone University strengthens your ability to reach audiences across the globe. Approach real-world marketing puzzles with strategic problem-solving skills, and advance your professional toolkit with online courses specializing in digital marketing, analytics and consumer behavior. Taught by faculty who love God and students, you'll also gain a better understanding of the ethics and potential kingdom impact of marketing.
Not yet accredited by the Accreditation Council for Business Schools and Programs (ACBSP).
Reach Audiences and Drive Results With a Clear Strategy
Through the Master of Science in strategic marketing at Cornerstone, you'll develop skills in analytics, consumer behavior and sales that you'll need to launch or grow your career in marketing. You will also:
Gain specialized knowledge in the core disciplines of marketing.
Apply what you've learned in real-world scenarios in your workplace or area of interest.
Develop intellectual skills such as critical thinking, research methods and communication fluency.
Cultivate intercultural competence and a biblical worldview.
Admission Requirements
A completed bachelor's degree with a minimum 2.7 GPA from an accredited institution
Official college and/or military transcripts
International Students: TOEFL or IELTS score
Next Program Start Date
At Cornerstone, you'll move through your degree by taking one to two courses per session through our flexible term-based model. Each session is seven weeks.
Summer 2023
Classes start on May 8 and July 5, 2023
Fall 2023
Classes start on Aug. 30 and Oct. 25, 2023
Spring 2024
Classes start on Jan. 16 and Mar. 13, 2024
90%
Of students work full time while pursuing a degree.
10%
Projected growth of employment in the marketing industry by 2030 (Bureau of Labor Statistics, 2022).
7
Each course is seven weeks.
Courses and
Learning Outcomes
The Master of Science in strategic marketing prepares you to serve in many capacities in the marketing industry, including as a marketing director, designer, digital marketing manager or content coordinator. You'll gain well-rounded knowledge and real-world experience through both marketing courses and core business courses offered in this program.
Required Classes
IDS-5XX Introduction to Graduate Studies
BUS-505 Research Methods
MGT-542 Organizational Decision-Making
MGT-639 Strategic Leadership
FIN-644 Budgeting & Financial Resource Management
MKT-5XX Strategic Marketing Management
MKT-5XX Marketing Ethics
MKT-5XX Professional Sales Management
MKT-5XX Digital Marketing
MKT-6XX Consumer Behavior
MKT-6XX Marketing Analytics
MKT-6XX Strategic Marketing Applied
Program Learning Outcomes
Specialized Knowledge
Demonstrate specialized knowledge of and proficiency in the terminology, concepts, practices and skills specific to marketing. In accomplishing this objective, students will be able to:
Demonstrate knowledge of the core disciplines of marketing, including strategy, analytics, consumer behavior and sales.
Exhibit understanding of concepts and issues related to the ethical and legal elements of marketing
Applied Knowledge and Collaborative Learning
Exhibit competency in applying their knowledge to address real-life marketing problems through both individual and group effort. At the end of this program, students will be able to:
Successfully use skills and competencies to demonstrate proficiency in digital marketing and analytics.
Apply and evaluate strategic approaches to marketing using both case study and simulation approaches.
Intellectual Skills
Demonstrate your ability to integrate traditional and normative skills expected of students in the liberal arts tradition, including analytical skills, information literacy, quantitative competency and communication fluency.
Civic & Global Engagement
Demonstrate intercultural competence in addressing civic, social, environmental and economic issues within marketing.
Biblical Worldview Integration and Action
Articulate a Christ-centered worldview to include its personal, professional and communal embodiment through Christian virtues.
Related Programs
Graduate degrees are in high demand by employers of all industries. Cornerstone's graduate degrees are available fully online and can be taken at your own pace. Explore more of the graduate programs we offer and discover how you can gain the skills you need to stand out in your organization.
Admissions Office
Hours
MON - FRI: 8 a.m. - 5. p.m.
SAT & SUN: Closed
Want to Learn More About CU?
Connect With CU